Helicopter crashes off Scotland, all on board safe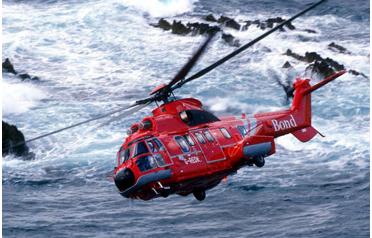 "There are no serious injuries," Coastguard spokesman Fred Caygill said. "Some have minor injuries and some have no injuries at all apart from the trauma of the experience."
The civilian helicopter came down about 500 metres (yards) from a platform owned by oil giant BP in an area of the North Sea know as the Eastern Trough Area Project, Caygill said.
Fifteen of those on board were rescued by the platform's own lifeboat and the other three were airlifted to safety.
Caygill likened the rescue to the incident last month when a pilot landed a damaged US Airways jetliner on the Hudson River in New York, saving all 155 on board.
"I suspect the pilot of this helicopter played a very major part in ensuring all the passengers and crew were alive when they were rescued," he said.
"I would have been very difficult for the passengers not least because you're in an aircraft, you've gone into the water, you're in the dark and you have to get yourself to a life raft."
Caygill said it was too early to say what had caused the incident and that it was unclear whether the helicopter had been landing at or taking off from the platform.
Coastguards described the weather as moderate with seas of 2 to 3 metres but said visibility was limited to 0.5 nautical miles and that the cloudbase was below the nearby platform's helideck level at about 500 to 600 metres.
The rescue mission, which included three military helicopters and a Nimrod aircraft, was also been hampered by darkness, the Coastguard said.
The Super Puma helicopter went down about 125 miles (201 km) due east of the port city of Aberdeen and was on one of thousands of civilian helicopter flights a year that service the many oil and gas platforms in the North Sea. 
Follow Emirates 24|7 on Google News.
Rescuers plucked 18 people from the icy, dark waters of the North Sea on Wednesday after a helicopter ditched close to an oil and gas platform off the east coast of Scotland.