Plane carrying 51 lands safely after front wheels jam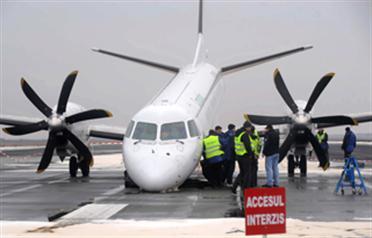 Officials say a Romanian plane carrying 51 people has made a safe emergency landing in western Romania and all the occupants escaped injury.
The Carpatair flight's front landing gear became stuck and the plane circled Timisoara International Airport for almost two hours, using up its fuel to avoid a potential fire before it landed on a 200 meter long bed of foam laid out by firefighters, officials said.
Gideon Ewers, a spokesman for the International Federation of Airline Pilots Associations said foam is used less often now to help commercial aircraft that can't lower their landing gear. He said foam was used more widely in the 1950s to prevent gasoline bursting into flames, but today jet fuel is much less volatile than gasoline.
Follow Emirates 24|7 on Google News.