Policeman shot dead in N. Ireland days after soldiers slain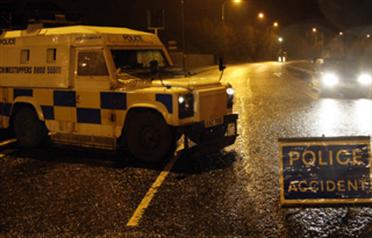 A policeman has been shot dead in Northern Ireland 48 hours after the killing of two British soldiers in an apparent escalation of violence designed to derail the peace process.
The on-duty officer was shot in the head in Craigavon, 32 kilometres southwest of Belfast, on late Monday, police said. The apparent ambush is the first killing of a policeman in Northern Ireland for a decade.
The latest death, plus the soldiers' shooting as they received a pizza delivery at their base late Saturday, raises fears that Northern Ireland's hard-earned political stability could be under threat. "We are staring into the abyss and I would appeal to people to pull back," Dolores Kelly, a nationalist SDLP lawmaker and member of the Northern Ireland policing board, was quoted as saying by Sky News television.
Political leaders again vowed that violence would not shake the province's progress to peace. Northern Ireland's First Minister Peter Robinson said he was "sickened" by the attacks, while Britain's Northern Ireland Secretary Shaun Woodward added: "We must not allow them the capacity to undermine the political process."
There were unconfirmed reports that other police officers were also hurt in the incident. Local political sources told AFP the officer was shot following a callout to an incident near a nationalist republican area. Two police cars raced to the scene and when officers stepped out of one of the vehicles, gunmen who were lying in wait opened fire. Armed officers and a police helicopter are at the scene as officers hunt for the perpetrators.
No group has taken responsibility for killing the policeman but the death of the soldiers, the first such attack for 12 years, was claimed by the Real IRA. The Real IRA is a republican dissident group opposed to the peace process formed in 1997 as a splinter group from the Irish Republican Army (IRA).  It was behind Northern Ireland's most deadly attack, the 1998 Omagh bombing which killed 29 people.
Northern Ireland endured three decades of violence known as the Troubles which killed around 3,000 people and largely ended in 1998 with the Good Friday Agreement peace accord.
The latest upsurge of violence has prompted politicians to insist that Northern Ireland's devolved power-sharing government, put in place after the accord, will not be thrown off course.
The British province is currently ruled by a power-sharing government uniting former foes the Democratic Unionists and republican Sinn Fein - the ex-political wing of the now defunct IRA - devolved from London.
Republicans want Northern Ireland to leave the United Kingdom and join the Republic of Ireland to the south, while unionists want to keep ties with Britain.
Robinson, of the DUP, called the latest shooting an "evil deed". "I am sickened at the attempts by terrorists to destabilise Northern Ireland," he said. "Those responsible for this murderous act will not be allowed to drag our province back to the past". He urged Northern Ireland's chief of police Sir Hugh Orde "to take whatever steps are necessary to ensure that innocent life is protected in the face of this terrorist threat across Northern Ireland."
Britain's Woodward described the attack as "brutal" and said it showed "just how ruthless these criminals are". "These people do unfortunately have the capacity to kill but we must not allow them the capacity to undermine the political process," he said on Sky News television.
And Sinn Fein lawmaker John O'Dowd told the BBC: "Tonight's killing means that we have to dig deeper within ourselves to find extra strength and resolve to continue on this path, but continue on it we must".
Orde, meanwhile, pledged to continue his controversial policy of working with British security services to combat dissidents, despite criticism from Sinn Fein, which is opposed to the British army's presence in Northern Ireland. "We will not step back from what we are facing, we will deliver that service and I'm afraid sadly on this occasion we lost an officer," he said, adding he was "immensely proud" of his force. 
WHAT DO YOU THINK?  Will the current shootings affect the peace process negatively? Have your say by posting a comment below, or emailing us at online@business24-7.ae.
Follow Emirates 24|7 on Google News.