Protester throws shoe at Chinese premier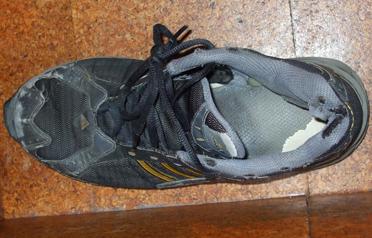 A protester threw a shoe at Chinese Premier Wen Jiabao and called him a dictator as he delivered a speech on the global economy on Monday.
The shoe missed Wen and landed on the stage about a metre away from him during an address at Cambridge University on the last day of his official visit to Britain.
The protest followed the hurling of shoes by an Iraqi journalist at US President George W Bush on his farewell visit to Iraq in December.
The protester, who was held by university security guards, blew a whistle and then shouted: "How can the university prostitute itself with this dictator? How can you listen to the lies he is telling? Stand up and protest."
Wen hesitated for a few moments in his speech before continuing. University officials bundled the protester out of the building and guards fanned out across the stage.
After the protest, Wen continued his speech, saying: "We come in peace. This is not going to obstruct China-UK friendships. History shows harmony will not be obstructed by any force, so would you let me continue."
A police spokeswoman said officers arrested the man for a public order offence. She gave no more details about him.
A Chinese Foreign Ministry spokesman travelling with Wen condemned the protest.
"Facts have shown that this despicable behaviour of the perpetrator proved extremely unpopular and can in no way stem the tide of the growing friendly relations and co-operation between China and Britain," he said.
About 80 people, both supporters and critics of China, had earlier gathered outside the venue. There was a large police presence in the city and security guards within the building.
A Chinese embassy spokesman said a planned reception with Queen Elizabeth's son Prince Andrew at Buckingham Palace in London had been cancelled due to bad weather. The decision had been taken before the protest, the spokesman added.
Airports in London have been badly disrupted by the worst snow in nearly 20 years, with hundreds of flights cancelled. Wen was due to fly out of the capital on Monday evening.
Groups of anti-China protesters, including pro-Tibet campaigners, have followed the Chinese premier during his visit to Britain.
On Sunday, police arrested five pro-Tibet demonstrators after they broke through police lines as Wen arrived at the Chinese embassy in London.
Video footage of the shoe-throwing in Baghdad was shown around the world. The protester, journalist Muntazer Al Zaidi who works for independent Al Baghdadiya television, shouted: "This is a goodbye kiss from the Iraqi people, dog."
Follow Emirates 24|7 on Google News.