Real IRA 'claims killing of British soldiers' in N Ireland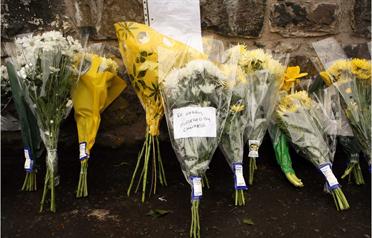 A dissident republican group opposed to the Northern Ireland peace process apparently said Sunday it shot dead two British soldiers at an army base, the first such killing in 12 years.
A man who said he was from the Real IRA claimed responsibility for Saturday night's attack at the Massereene barracks northwest of Belfast in a phone call to a newspaper using a recognised code word.
The soldiers, who were set to deploy to Afghanistan Sunday, were killed when two masked gunmen pulled up outside their barracks as a pizza delivery car arrived and fired two long bursts of automatic gunfire before fleeing.
The attack has raised fears that sectarian violence could return to Northern Ireland, which has seen relative peace since 30 years of sectarian unrest which cost some 3,000 lives was largely ended with a 1998 peace accord.
Figures from all parties vowed the shootings, which also wounded four, would not shake the political system put in place as part of the peace process.
Northern Ireland is a British province ruled by a devolved power-sharing government of Protestant and Catholic former foes.
Deputy First Minister Martin McGuinness of Sinn Fein, the main republican Catholic party and ex-political wing of the now-defunct Irish Republican Army (IRA) paramilitaries, said the days of conflict "can never come back again".
"I was a member of the IRA but that war is over now," he said. "The people responsible for last night's incident are clearly signalling that they want to resume or restart that war. Well, I deny their right to do that."
First Minister Peter Robinson, of the Protestant Democratic Unionists, added that the killers had "no prospect of success in their campaign".
And British Prime Minister Gordon Brown vowed: "No murderer will be able to derail (the) peace process."
However, officials will be deeply concerned by the prospect that the Real IRA -- an IRA splinter group formed in 1997 to oppose Sinn Fein's role in the peace process -- is behind the attack.
The group was responsible for Northern Ireland's single biggest attack, the 1998 Omagh bombing which killed 29 people.
Suzanne Breen, a reporter with the Irish Sunday Tribune newspaper, said she received a telephone call Sunday evening from a man using an "authorised code word" who said he made "no apology" for attacking the soldiers.
"A man who said he was a representative of the South Antrim Brigade of the Real IRA claimed responsibility for the attack," Breen told BBC television.
Police are hunting three men involved in the attack -- two gunmen and a getaway driver. There are reportedly up to 300 dissident republicans active in Northern Ireland.
A senior security source told AFP the shooting was a professional one which marked a "step change" in the extremist threat.
The incident came 36 hours after Northern Ireland's police chief Hugh Orde revealed that a small number of undercover British commandos had been called in to monitor dissident republicans.
"This is a normal place which has a tiny number of people determined to drag us back to a place where no-one wants to be," said Orde, who said the security threat today was at its highest in the seven years he has been in charge.
Two other soldiers were also wounded as well as two pizza delivery men. Three are in hospital in serious condition and the fourth was listed as critical. One of the injured is thought to be a Polish national.
Detective Superintendent Derek Williamson, who is investigating the case, called it "an attempt at mass murder".
Violence in Northern Ireland largely ended with the signing of the Good Friday accords in 1998, amid hopes that power-sharing between Protestants, who favour ongoing union with Britain, and Republicans who prefer unification with Ireland, would finally stop sectarianism.
In an editorial Monday, the Independent newspaper said the attack was designed to prompt a security crackdown in Northern Ireland and therefore increase support for dissident republicanism.
But it added: "The likelihood is that the broader peace process will hold. The mainstream political parties of Northern Ireland have too much invested to allow it to be derailed by such attacks."
Follow Emirates 24|7 on Google News.