Rebel bombers kill 38 on Moscow trains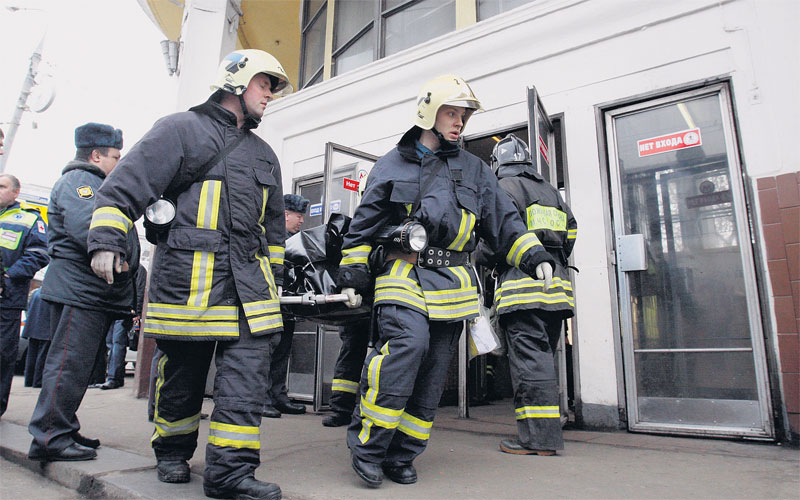 Two female suicide bombers killed at least 38 people on packed Moscow metro trains yesterday and Prime Minister Vladimir Putin declared that "terrorists will be destroyed".
Witnesses described morning rush-hour panic at two central Moscow stations, with commuters falling over each other in dense smoke and dust as they tried to escape the worst attack on the capital in six years. Sixty-five others were injured.
Federal Security Service (FSB) Chief Alexander Bortnikov said the bombs were filled with bolts and iron rods. He linked the attacks to the North Caucasus, where Moscow faces a growing threat from insurgents who have threatened to hit Russian cities and economic targets. "A crime that is terrible in its consequences and heinous in its manner has been committed," Putin said, before breaking off a visit to Siberia to handle the aftermath of the attack.
"I am confident that law enforcement bodies will spare no effort to track down and punish the criminals. Terrorists will be destroyed," Putin told emergency officials. The first blast tore through the second carriage of a metro train just before 8 am as it stood at the Lubyanka station, close to the headquarters of Russia's main domestic security service FSB. It killed at least 23 people.
About 40 minutes later, another blast in the second or third carriage of a train waiting at the Park Kultury metro station, opposite Gorky Park, killed 12 to 14 more people, an emergencies ministry spokeswoman said.
Chechen separatists were blamed for that attack. Rebel leader Doku Umarov, who is fighting for an Islamic emirate for the region, vowed last month to take the war to Russian cities. "Blood will no longer be limited to our (Caucasus) cities and towns. The war is coming to their cities," he said.
Follow Emirates 24|7 on Google News.