Russia set to resume EU gas supplies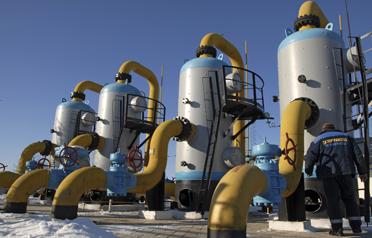 Russia on Tuesday was set to resume pumping gas to Europe through Ukraine, promising to ease a crisis that has left hundreds of thousands of Europeans without heat in the depths of winter.
The order to reopen the taps at 7.00am GMT was given late on Monday by Russian Prime Minister Vladimir Putin after the European Union brokered a deal to end a bitter dispute in which Moscow accused Kiev of stealing gas bound for Europe.
But supplies for the EU could take several days to return to normal and Russia's state-run gas giant Gazprom has warned that deliveries would be cut again if Ukraine continues siphoning off gas – an allegation denied by Kiev.
"In case of unsanctioned siphoning of gas we will decrease volumes delivered by the volume stolen per 24 hours. Russia's position on this has been conveyed to the European Commission," Gazprom chief executive Alexei Miller said Monday.
Russian newspapers were skeptical that the "gas war" was over despite the EU-brokered deal, under which monitors will be stationed along the Ukraine transit network that supplies around a fifth of Europe's gas needs.
"Moscow and Kiev lit up a pipe of peace, but both are getting ready for new gas wars," read the front-page headline in the Kommersant newspaper on Tuesday.
Gazprom "threatens to once again stop transit if Ukraine continues to siphon off gas for technical needs, while Kiev does not hide its intent to do precisely that", it said.
In a dispute that still threatens to derail the EU agreement, Ukraine has insisted that Russia must provide additional "technical gas" used to maintain pipeline pressure while Moscow says that Kiev must pay for such gas.
The two ex-Soviet neighbours have also not yet resolved the basic dispute that sparked the gas crisis on January 1, involving Ukraine's debts to Russia and a new price for gas in 2009.
Hundreds of thousands of people across Europe have lost their gas supplies due to the ensuing crisis, and factories and schools were closed down in some countries to save energy.
At talks in Brussels on Monday, EU officials voiced growing impatience to resume supplies that were first reduced by Russia on New Year's Day and were cut to zero last week, hitting many EU member states at a time of bitter cold.
"We cannot accept further delays, further excuses that keep European citizens in the cold," said European Commission chief Jose Manuel Barroso.
EU Energy Commissioner Andris Piebalgs said "it will take some time to reach our consumers, between 24 and 40 hours", while other EU officials have said it might take as much as three days.
EU energy ministers also concluded in a meeting in Brussels on Monday that the 27-nation bloc needed to increase investment in energy infrastructure to reduce its dependence on Russian imports.
"Europe is totally shortsighted about its joint energy policy," lamented Italian Energy Minister Claudio Scajola. "It should not be dependent on people who can bring a country to its knees by turning off the taps."
The EU relies on Russian gas to meet about a quarter of its gas needs.
Some 80 per cent of those imports pass through Ukraine, which had a similar dispute with Russia over gas prices in January 2006 that led to brief disruptions in supplies to EU countries.
Follow Emirates 24|7 on Google News.