Sarkozy denies Mexico is a 'failed state'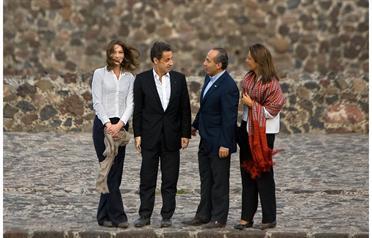 French President Nicolas Sarkozy hailed Mexico's efforts to battle its spiraling drug violence ahead of his first official visit to the country, and denied that Mexico was a "failed state."
Sarkozy and Mexican President Felipe Calderon met privately for lunch and a visit to the pyramids of Teotihuacan on Sunday before Monday's official visit, but no details of their two-hour talks were released.
Sarkozy said President Calderon had made the fight against drug traffickers a "priority," in an interview in La Reforma daily on Sunday, as he ended a weekend trip to a Mexican beach resort.
Mexico's drug violence has burst onto the international stage in recent weeks with reports of rampant violence and trafficking activity from Mexican cartels across the United States, Canada and even West Africa.
More than 1,000 people have died in suspected drug attacks in Mexico so far this year, including many gruesome beheadings, and more than 5,300 people were killed in 2008.
Sarkozy however denied Mexico was a "failed state," a term used in a US State Department report leaked to the press last month, and said that France and Mexico would increase cooperation.
"A 'failed state' is a state which would give up the fight with criminals and traffickers and that is not, in any way, Mexico's case," Sarkozy said.
"This battle is ours too, because organized crime and drug trafficking have no borders," Sarkozy added.
The run-up to the first visit by a French president to Mexico in 10 years has been overshadowed by the case of a Frenchwoman jailed on kidnapping charges in Mexico, with the two leaders were expected to make a joint statement on the issue Monday.
Media and rights groups in Mexico, where kidnappings are widespread, have expressed outrage at the possibility that 34-year-old Florence Cassez may be allowed to return home to serve out a 60-year prison sentence for her role in a Mexican kidnapping gang.
Cassez, whose appeal was thrown out by a Mexican court on Tuesday, was arrested in December 2005 at the home of her Mexican boyfriend.
Her father has urged Sarkozy to petition Calderon to grant her an amnesty.
An upcoming G20 summit in London next month was expected to be high on the agenda of Sarkozy's joint talks with Calderon.
Sarkozy was also due to sign agreements on the construction of a vaccine plant, the installation of security cameras in the Mexican capital and helicopter sales.
Mexico is France's fourth-largest partner in the Americas after the United States, Brazil and Canada, with trade worth 2.66 billion euros (3.36 billion dollars), according to 2006 figures.
Some 300 French firms are established in Mexico, employing around 80,000 people.
Sarkozy and his wife Carla Bruni spent the weekend at a beach resort on Mexico's Pacific Coast, French diplomats said.
The French leader was also due Monday to visit the Mexican Senate, to meet with business people and the French community, and to dine with Calderon.
Follow Emirates 24|7 on Google News.