Spain PM denies lying on economy before elections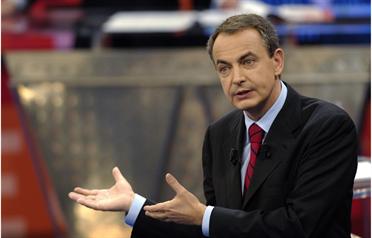 Spanish Prime Minister Jose Luis Rodriguez Zapatero on Monday denied that he had lied about the government's economic forecasts in the run-up to the Spanish elections in March 2008.
Speaking on the television programme "I Have a Question for You," in which guests face questions by the studio audience, Zapatero said he was mistaken on his predictions, but he denied lying.
Just days after Spain's Socialist government, headed by Zapatero, won the election last March it forecast economic growth at a slower rate than it had in the run-up to the elections.
"I did not lie at that time....I could have been mistaken, but I didn't lie," Zapatero said.
In the run-up to the 2008 national elections, the Socialist government had predicted Spain's gross domestic product would grow 3.1 per cent in 2008 after growth of 3.7 per cent in 2007.
Days after the election, Spanish Economy Minister Pedro Solbes told Reuters he expected growth to fall below 3 per cent for 2008 as a whole.
The government now expects GDP to contract by 1.6 per cent this year.
Zapatero reiterated that he believed the Spanish economy would begin to see growth by the end of 2009 and repeatedly called for confidence from the Spanish people.
"What I have to do in the current situation of serious economic crisis is face it and inspire confidence that Spain will move forward," Zapatero said when asked if he had considered resigning.
Zapatero's hour-and-a-half question-and-answer session was dominated by criticism on the government's handling of the economic crisis, which Solbes said last week would be the worst recession in 50 years.
"If I lose my job, I can't feed my kids and I can't pay my mortgage. How can you understand that?" said one worker from the construction sector, which has collapsed after the decade-long property boom stagnated last year.
Unemployment in Spain has soared by over a million in the last year and is by far the highest in the European Union, reaching almost 14 per cent in the fourth quarter.
The government has announced an 8 billion euro ($10.52 billion) fund to help stimulate the economy, which it says will produce 400,000 jobs this year,
One unemployed woman stood before Zapatero and said; "I don't have any questions, but I hope you have an answer for me." 
Follow Emirates 24|7 on Google News.