UK's Brown risks showdown over part-sale of Royal Mail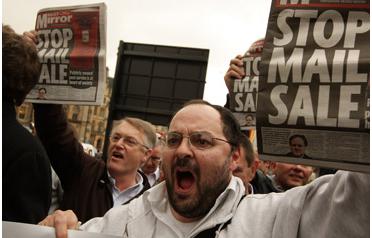 The government confirmed that the legislation would be introduced on Thursday despite reports of cabinet discord and of attempts by some ministers to delay its publication.
Brown is expected to face one of the biggest parliamentary revolts of his 20-month-old premiership over the plan.
More than 150 lawmakers, many of them from the ruling Labour Party, have signed a motion opposing the partial sale of the company, which traces its history back to the 16th century.
Several of those who have signed are ministerial aides, who are normally expected to support government policy.
Labour has a working majority of 63 in the lower house of parliament so is likely to depend on support from the opposition Conservatives to pass the legislation.  One union leader has threatened a strike over the plan.
The row is a new headache for Brown, who is battling recession and a banking crisis and whose party has fallen well behind the Conservatives in the opinion polls. Brown must call a general election by June 2010.
"Of course, this is politically difficult. I know Labour members of parliament and the trade unions have concerns about these proposals," Business Secretary Peter Mandelson wrote in an article for the Daily Mirror newspaper on Thursday.
"But we face a choice. We either let Royal Mail drift and do nothing. Or we take action...," he said.
The proposal to sell up to 30 percent of Royal Mail has aroused strong passions in Britain, where the company's red vans and postboxes have long been part of the landscape.
The government says Royal Mail must deal with its big pension fund deficit and modernise or it will run out of money to provide its current level of service.
Opponents fear the sale could spell the end of "universal service" – Royal Mail's commitment to deliver mail for the same price to all parts of Britain, including remote rural areas – and be the first step to full privatisation.
Royal Mail makes a profit but the volume of mail is shrinking because of competition from other operators and increasing use of e-mail. Its pension fund has a £5.9 billion pound ($8.43 billion; Dh31 billion) deficit.
The government says it will take responsibility for the pension fund deficit but Royal Mail must bring in outside management expertise and investment as part of the bargain.
In December, Mandelson welcomed an approach by Dutch logistics company TNT to take a minority stake in Royal Mail.
In the Daily Mirror article, Mandelson tried to address concerns that the "universal service" was under threat.
"The six-day-a-week, one-price-goes-anywhere letters service that we all rely on will ... be enshrined in law," he wrote.
He also pledged that Royal Mail would remain a majority publicly owned company. 
Follow Emirates 24|7 on Google News.
British Prime Minister Gordon Brown will risk a confrontation with unions and many of his supporters on Thursday by pushing ahead with a plan to partly privatise Royal Mail, the state-owned postal services firm.