Got a pink slip? Here's help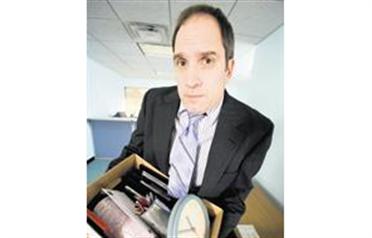 UAE expatriates who find themselves out of a job, thanks to the financial crisis, have a number of tough choices to make in the initial few days post-redundancy.

Top of the list is sorting out finances, including negotiating with banks over debt repayments and loans. And with residency linked to their employment, this often means using the next 30 days (or possibly longer, depending on the approval of a new proposal to extend visas for recently laid-off expats) to look for a new job or make plans to leave the UAE. We spoke to the experts for a step-by-step guide.

1 HUMAN RESOURCES Your company's HR department should be a first point of contact if you've just been let go. Every firm is different and HR is your best bet for finding out about your company's compensation package as well as how much time you have before your residency visa expires. Under current laws, jobless expats could have their visas cancelled within a month, but the UAE Government is looking at a proposal to allow those made redundant to remain in the country longer to look for work. Your HR department can also answer any labour law questions you may have and provide a 'no objection certificate' that would let you change sponsors once you find a new job.

2 LEGAL OPTIONS A good lawyer will also apprise you of your rights under the UAE Labour Law; and could even recommend visa services firms if you want to use a layoff to start a company or other such options.

Moutasem Shakhatreh, an associate at independent law firm Al Tamimi & Company, says the best solution to tackling finances is to start negotiations with your financial institutions to settle debts, as individuals cannot file for bankruptcy in the Emirates. "Most expats here have loans from banks, for their homes, cars, and so on. If they decide to return to their home countries after losing their jobs, these loans obviously need to be paid back. If the expat doesn't have the funds to do this, the bank could be uncooperative, file a case against him and start enforcing securities. In this case his assets end up being sold at a public auction," he says. So it is in the banks' benefit to negotiate with customers to start rescheduling debts and have the loans repaid, he adds.

3 CONTACT YOUR BANK UAE banks encourage recently laid-off customers to go into a branch or call in to customer service numbers and seek advice on debt servicing. They offer facilities such as restructuring entire loans and increasing the tenure to make it easier for clients to pay down these borrowings.

"The first thing we do is encourage our customers to actually call us and tell us there's an issue because what happens sometimes is it can fester and come to a point of no return, and then it's very difficult to help out a customer," says Niranjan Mendonca, head of retail assets at Mashreq bank. "There's no way we can help until a customer comes and talks to us – that's the only way we can offer facilities that will help the customer to settle their debts and liabilities."

4 GET DEBT SERVICING ADVICE Most banks offer advice on debt servicing facilities to customers with multiple debts to help pinpoint which ones are key – for instance, home mortgages or monthly rent. "We don't want customers in this position to end up having to move out of their homes so we ask them to pay down debts that will not otherwise affect their lifestyle. It's a factor of what's going to cause the customer the most amount of discomfort," Mendonca says. "It all depends on the customer's requirements at that point in time. We treat each customer differently depending on their circumstances and devise solutions and strategies accordingly."

5 PAYING AT A DIFFERENT PACE Many banks in the UAE also offer rescheduling options on any outstanding debts a jobless expat faces. Increasing the period so the customer has longer to pay off the loan often decreases monthly repayment amounts, making it easier for the customer to meet due dates.

Mendonca says the ease of rescheduling a loan depends on the customer. "If the person has a job offer from another organisation it means there's going to be a source of income 30 days down the line. However, another person who doesn't have a job would obviously be treated differently. With the first customer, we would only need to manage one month of his payments. For the other, we would need to manage his entire lifestyle, the entire way he is going to repay the loan." He says there are multiple other factors that come into play, including whether the customer's residency visa gets terminated immediately or the ex-employer allows an extended residency.

6 MAKING PAYMENTS FROM ABROAD? "Every customer has a fallback mechanism he can turn to – whether he dips into his savings, or approaches family, social network or support functions to help out – so that's the reason we tell customers to not get over leveraged. Use the cheapest means you can use first before going into expensive modes of repayment," Mendonca says.

Most banks say the ideal scenario is to settle all outstanding balances in the country if you are planning on leaving. However, if you don't have the cash flow or support to pay off all your liabilities, remittance facilities are available from some banks to settle monthly payments in the UAE from abroad. Speak to your financial institution to find out what their specific policies are.

7 CAR LOANS AND RESALE Whether you've decided to leave Dubai or stay on and look for a job, a vehicle is often a liability expats give up to cut back on outgoings. If leaving the country, it is key to sell the car and settle the loan amount with the bank, says Mendonca. If time is tight, the fastest – though not the most economical – way to sell a car is through a dealership.

Jonathan Greenslade, General Manager of Gargash Motors in Dubai, says, "We have a lot of expats who are leaving the country and who need to be able to sell. They can either go back to the dealer and see if they want to buy the car back, or go to used car dealers. The downside is you might not always get the best price but it is guaranteed because the money will be paid. My advice is to start earlier rather than later because the later you leave it the more panicked you are going to be and the less money you're going to make."

However, Greenslade says if a car loan is greater than what the dealer is willing to pay, the customer needs to cover the rest. "We call it 'upside down', which means the car is not worth what the customer owes," he says. If you have the time to post advertisements on Dubizzle or your local Spinneys board and wait for a private buyer, this option will get you more money.

8 CONSULAR SERVICES Foreign embassies are another point of contact for expats in difficulty. They can offer information about transferring funds abroad, provide details of local lawyers, and contact family members or friends on your behalf. Crucially, they can update you on how much tax you may have to pay in your home country on your return, depending on how long you've been away and the time of year you go back. But don't expect your embassy to bail you out. "We cannot give legal advice, stand as guarantors, pay debts or interfere in any possible proceedings, but we can put you in touch with a local lawyer," British Embassy spokesman Simon Goldsmith says.

In a spot?

Having trouble managing your finances in difficult times? These five quick tips could help

- Contact your bank immediately on any issues arising with repayments of any outstandings

- Use idle funds or funds set aside for future usage to reduce any outstanding liabilities

- Evaluate borrowings that will cause most discomfort if not settled and prioritise payments of the same

- Live within your budget and set surpluses aside for settling outstanding liabilities

- Consolidate finances with one financier who can help with managing your debts and avoid any additional leveraging
Follow Emirates 24|7 on Google News.