'Abu Dhabi among best for business'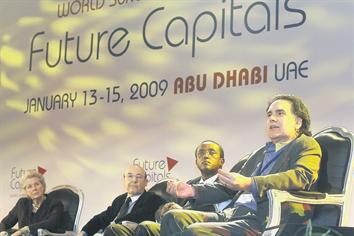 Abu Dhabi is one of the most attractive business destinations in the Middle East and has one the best investment-friendly environments, said participants at the Future Capitals World Summit in the capital yesterday.

Calling for greater integration of Abu Dhabi into the world economy, financial and industrial experts said the emirate is capable of overcoming the crises hitting the global economy. They cautioned, however, that this integration should not come at the cost of Abu Dhabi's character, and it needs to continue maintaining its identity rather than becoming a carbon copy of other economic and urban models of the world.

Dr Hector de J Ruiz, Executive Chairman, AMD, one of the largest technology companies in the world, said his company would consider expanding investments in Abu Dhabi. "Abu Dhabi has sufficient liquidity as well as a high degree of openness, apart from there being no difficulties or hurdles for companies to establish themselves. It also supports foreign investments and provides them with a safe environment," he added.

Ruiz advised Abu Dhabi to preserve its identity. "The new thing that Abu Dhabi offers the world is maintaining its identity, tradition and cultural heritage while achieving technological progress. It is not important for Abu Dhabi to become another New York or London. Rather, it is important that Abu Dhabi becomes Abu Dhabi in terms of a deep-rooted tradition and a genuine culture, while it builds lofty towers," he said.

Ruiz expected a lot of global investments to head towards the Gulf, particularly to Abu Dhabi, since it is a "better profit and business environment at the moment compared to several cities in the US and Europe".

"I believe foreign investments in Abu Dhabi will double. What is important is that Abu Dhabi strengthen relations with world markets," Ruiz said.

HRH Heide, Princess von Hohenzollern, of Germany, said the world is losing trillions of dollars in shares, real estate and banking sectors, and future capitals will certainly not be immune to these problems. However, they should be able to offer solutions. She said the global financial crisis has exposed the absence of sufficient regulations for the financial sector as well as for individual operators. And indiscriminate lending, too, has serious and damaging consequences. Therefore, in order to protect the world from similar financial tremors in the future, there should be strong regulations for lending to individuals. Also, the idea of a global economic and social partnership should be successfully implemented.

"During my stay in Abu Dhabi I noticed the attention paid to transparency and assigning responsibility to senior leaders and those coming next, which is followed up through monitoring and accountability. This is very good. It is important that the government helps private sector companies and individuals to borrow and reactivate the market," she said.

"Also, investors should be given the opportunity to obtain full satisfaction since it is they who risked their money both inside and outside the country. What is very important, though, is that everybody should be cautious not to have excessive borrowings on their plate."

Professor Harriet Fulbright, President of the Fulbright Center of the Fulbright Foundation, said future capitals are capitals of finance, economy, technology and higher education, and all these are available in Abu Dhabi. The emirate is actively involved in preserving the environment and building cultural and heritage projects, mainly museums.

Abu Dhabi has started vast projects in new fields, such as in renewable energy, with the Masdar City. The UAE capital is undoubtedly one of the most important future capitals in terms of material and non-material potential, as well as infrastructure and multi-billion-dollar investments in vital sectors, such as airports, roads and transport, said Fulbright.

Sam Hamdan, Chairman of the Global Leadership Team and chief architect of the summit, said Abu Dhabi embraces people from all over the world and simultaneously pays a great deal of attention to developing UAE nationals and giving them sufficient opportunities.
Follow Emirates 24|7 on Google News.