Abu Dhabi plans to become a global capital of the future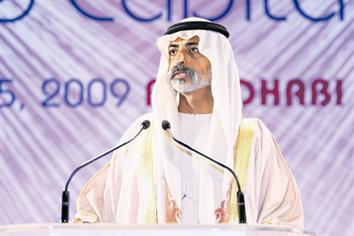 The world of tomorrow will have only a few cities capable of being called global capitals of the future, and Abu Dhabi plans to be one of them, said Sheikh Nahyan bin Mubarak Al Nahyan, Minister of Higher Education and Scientific Research in the UAE capital yesterday.

He was speaking at the opening session of the three-day Future Capitals World Summit in Abu Dhabi.

Addressing more than 500 delegates from various countries at the Abu Dhabi Intercontinental Hotel, Sheikh Nahyan said in his inaugural speech that Abu Dhabi's plans focused on sustainable development, economic diversification, driving a knowledge economy, private investments and a strong public-private partnership.

"These few world capitals will have in common an ability to innovate, to maintain vigorous growth, to create prosperity, and to bring together people, government, private and public institution to create a vibrant, wealthy and a fairly-balanced society," he said.

Abu Dhabi is committed to the full development of its human and natural resources, Sheikh Nahyan said at the forum.

"Our leaders have created an environment in which people respond to their economic and social opportunities and fulfil their responsibilities as citizens of Abu Dhabi and the UAE," he said.

"Ours is a very peaceful and stable city in a very peaceful and stable country. We are very enthusiastic about the possibilities of global and regional collaboration. And we are proud of the peace, harmony, and prosperity in which we live," he said. "Seeking to become one of the capital cities of the future, Abu Dhabi does recognise that all cities are a part of one another's future."

Speaking to the members of the press later, Sheikh Nahyan said Abu Dhabi is going ahead with projects in all spheres of its economy and is keen to be the world's best capital. "Abu Dhabi is going ahead with big projects in the fields of energy, infrastructure, real estate, education, health and petrochemicals. All our projects are going on according to their previously-determined schedules and they will be complete on time."

Sheikh Nahyan said the aim behind holding the summit in Abu Dhabi was to identify the aims and aspirations of future capitals and the changing scenarios they will witness over the next few years. The recently introduced Abu Dhabi Vision 2030 was in line with the requirements of building just such a future capital.

"The cities and capitals of tomorrow will differ from those of today, where the concentration will be on maintaining the environment, providing components for a luxurious life for citizens and paying more attention to infrastructure. Abu Dhabi started this journey many years ago towards these goals. "We not only construct high-rise buildings; we build the human capital first. It is important the world knows that clearly, because Abu Dhabi invests heavily in its human resources. The most important thing in our future strategy is the human being.

"We have firm foundations, which will lead to successfully making Abu Dhabi a future capital in all fields," Sheikh Nahyan said.

Addressing the international experts, he added: "Abu Dhabi has become one of the world's best cities and an international business, financial and commercial hub.

"The government will not leave any stone unturned to make Abu Dhabi a future capital of the world. We have a leadership with wisdom and vision and we owe it to the builder of Abu Dhabi – the late Sheikh Zayed bin Sultan Al Nahyan.

"We are keen in Abu Dhabi to be an important part of the world. Our experiences qualify us to suggest solutions to many global problems. Abu Dhabi's economy is certainly competitive, strong and creative in which private businessmen and companies play the main role.

"I call on the top experts who are attending the summit to discuss realistically and without reservations the ideal environment that should be provided to help a capital city to emerge and thrive," Sheikh Nahyan.


Mega gathering

The Future Capitals World Summit is bringing together investors, developers, business leaders, city mayors, cultural icons and technology leaders from more than 50 nations for interaction with a diverse group of experts and innovators in economics, development, technology, education, and the environment.

Apart from Sheikh Nahyan Mubarak Al Nahyan, UAE Minister of Higher Education and Scientific Research, the list of speakers include Hector de J Ruiz, Executive Chairman of Advanced Micro Devices; Mario Mauro, Vice-President of the European Parliament; Emmy Award Winning Composer Peter Buffet, the son of investment tycoon Warren Buffet; Emilio Ambasz, a renowned architect; James Michel, President of the Republic of Seychelles; Leonardo Domenici, the Mayor of Florence; Claude Begle Chairman of Swiss Post; and Curtis J Schroeder, CEO of Bumrungrad International Group.

According to its organisers – the US-based Global Leadership Team – the summit will point the way to the qualities that are defining the world's "Future Capitals", which are the places the world will go to for conducting and funding business, to seek the best education, and to experience great culture with impeccable social and environmental standards. These are the next great communities that will emerge as tomorrow's economic powers. The summit will also host an awards ceremony to recognise global icons working towards achieving these goals through their core businesses – and invite businesses to become the catalyst for the creation of the world's next "Future Capitals".

The summit's agenda will also showcase the role that business leaders must play to put the economies of their communities and cities back on track, and point the way to better innovations and services to compete in these turbulent times.

Held in partnership with the Abu Dhabi Chamber of Commerce and Industry, the summit's list of partners includes Sorouh Real Estate and other global organisations.
Follow Emirates 24|7 on Google News.