Abu Dhabi realty to recover soon as banks pump in more liquidity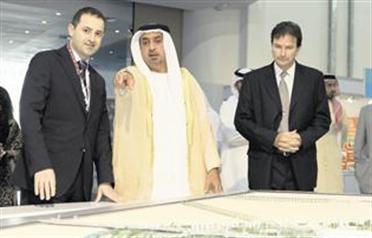 The real estate market in Abu Dhabi will start recovering with local banks pumping in more liquidity in the next couple of months, said Dr Sheikh Sultan bin Khalifa Al Nahyan, Member of the Executive Council.

After inaugurating the fifth annual Abu Dhabi Real Estate and Investments Show (Ireis) 2009, Sheikh Sultan said the government has asked local banks to support the real estate sector of the economy with more liquidity.

"Yes there is a slowdown in the real estate market because of the difficulty in getting finance. But we will see the change and progress in the next two to three months. Liquidity will be available in the next three months," Sheikh Sultan said.

He said the realty sector has been affected with many projects delayed because of the credit crunch. "The government wants the local banks to play their roles in supporting the sector and have been asked to make the liquidity available, which we will see in the next few months," he added.

Sheikh Sultan said people have the opportunity now to buy properties for future investment because the prices are down.

About this year's show, he said it has grown by 20 per cent in terms of exhibitors' numbers compared to the last show. "It has grown but not to an extent that we expected to be due to the current financial crisis."

More than 100 exhibitors, including real estate firms and banks, are participating in the three-day show.

However, a number of key players such as Al Qudra, Tamouh, Tameer and Manazil are absent.

After inaugurating the show, Sheikh Sultan toured the exhibition to have a look at the property activities, praising the efforts exerted by real estate companies, particularly in this difficult economic period, to develop the UAE property market, and thanking the exhibition organisers for putting together a wonderful event.

According to figures, from 2004 to 2007, projects valued at Dh380bn were announced in Abu Dhabi.

Commenting on the Ireis 2009, Ziad Bushnaq, CEO of Cornerstone, a joint venture developed in 2004 between Dhafir, Rakaa and Al Badie Group, said it provides a platform from which all those involved in the real estate industry can become acquainted with the latest developments in the sector.

He said: "Ireis 2009 presents a perfect opportunity for us to introduce our projects to the region.

"Cornerstone has an in-depth understanding of the requirements of the UAE's real estate market, which has been widely recognised as one of the top markets in the world."
Follow Emirates 24|7 on Google News.