Artistic weapons of self defence still enjoy good demand despite crisis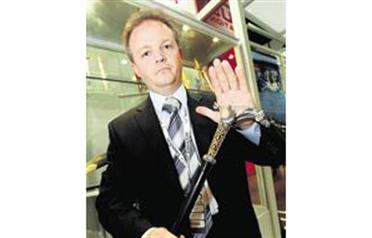 In the middle of nowhere in the gigantic Urals Mountains that split Russia into European and Asian parts, a tiny company that does not make guns came to the arms show in Abu Dhabi. As if to underscore its smallness, the company has rented a tiny stand at Idex show not exceeding eight square metres.

Visitors to Idex looked with curiosity at the stand's contents that include only ornamented daggers and knives. They seemed more curious when they spot a walking stick with a horse's head amidst those blades and their curiosity was converted into surprise when they were told about the stick's value.

"Its price is $320,000 (Dh1.17 million)," Andrey Shansherov, General Director of Status Gifts Foundation told the visitors as he pointed at the stick resting behind his stand's glass front. What made the visitors more surprised was that what a walking stick is doing at an exhibition that includes the most dangerous and fatal weapons.

"It is not just a walking stick," retorted Shansherov. "It is also a hidden weapon."

To their surprise, Shansherov seized the stick's handle with one hand and its edge with the other hand and pulled them apart to reveal a 50-cm sharp and pointed rod reminiscent of that used by Spanish matador in delivering the final blow to an attacking bull that outsises him by nearly three times.

Shansherov pushed the steel blade back into its sheath and it quickly reverted to a walking stick again. He leaned it carefully beyond the well-lit glass front and told the curious audience why it is so expensive.

"The upper part of the handle is made of pure silver and the lower part of pure gold. Another part is made of ebony while the blade is made of the finest steel metal… but what makes it so valuable, is that the internal part of the handle is ornamented with numerous precious gem stones" he said.

"This stick is hand-made… it takes us nearly a year to produce such an item, which we call a hidden weapon and at the same time a piece of art. We make such items for people who have a hobby of art collection."

Since it targets selective clients, Status's production is limited, not exceeding 100 pieces. Its employees at its tiny factory in the Ural mountainous town of Zlatoust also do not exceed 30, who toil round the clock to produce fine hand-made sharp objects for specific customers.

An Arabian-style curved sword lying next to the walking stick at Idex was another surprise to the visitors as its blade was carved with the Holy Quran verses.

Parts of the sword are real gold and others were gold plated. Its curved blade is made of what Shansherov described as "Damascus plated steel. Its price is $320,000 and I think it is underpriced. We took a long time to finish this hand-made sword and you can see why… as for the Holy Quran verse, it was done by a Muslim female worker at our factory," he said.

Next to the sword was a $7,200 dagger whose handle is made of a bronze lioness's head. Two other ornamented knives are valued at $6,400 and $3,800 while a $6,000 stiletto was also on display.

Shansherov said they had sold hundreds of pieces in Russia and other countries since they set up their little factory 10 years ago and they are now looking for customers in the UAE.

He said he believed people in the UAE and other Gulf countries love unique weapons and collections.

On the first day of the display at Idex, his walking stick caught the attention of General Sheikh Mohammed bin Zayed Al Nahyan, Crown Prince of Abu Dhabi and Deputy Supreme Commander of the UAE Armed Forces.

"He passed here and looked at the stick then walked away," Shansherov said. "He looked interested but he was clearly busy on the first day of the show."

Shansherov said Status had chosen Urals as its base nearly 10 years ago because the region is very rich in gold and other precious metals. He said the company chose to make such weapons to follow a tradition that was born nearly 200 years ago.

"After the end of the Russian-French war in 1812, the tsar issued an order to weapons manufacturers to start producing daggers and other similar weapons as there were no such weapons at that time… ever since, too many companies started to be involved in this business."

Ironically, instead of depressing its production, the global financial crisis was a shot in the arms for Status's business.

"On the contrary, our business has increased since the international meltdown began," Vladimir said.

"This is because people normally go for secure investment when there is a crisis and buying our items is a good investment."
Follow Emirates 24|7 on Google News.