Converting challenges into opportunities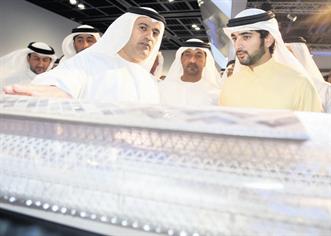 Only a year after being appointed as Dubai's Crown Prince, Sheikh Hamdan bin Mohammed bin Rashid Al Maktoum has already accomplished a list of initiatives that either complemented or supplemented his father's vision.

Sheikh Hamdan has given fresh momentum to plans to establish Dubai as a financial hub. He played host a few years ago to what was billed as the world's biggest gathering of tycoons and business leaders – Entrepreneurs in Dubai – and currently heads a young business leaders' organisation.

As president of Dubai Sports Council, he has also ordered the setting up of a football investment company in the emirate. The decision reflects Shaikh Hamdan's interest in finding "new sources of income" after investment in the sports sector, especially in football, has become an international industry.

His links to the United Kingdom remain from his attendance at Sandhurst military college, as well as studies at the London School of Economics. Since becoming Crown Prince, Sheikh Hamdan has appointed personal and financial advisers.

And, in addition to continuously establishing strong ties with the international community, Sheikh Hamdan has also met leading business leaders at a time when the credit crisis is taking a big hit on the global economy. Just recently, he has met Lloyd Blankfein, Chairman and CEO of Goldman Sachs, where they discussed the global financial crisis engulfing major markets of the world.

They reviewed world economic and financial changes as well as the role played by private financial establishments in co-operation with public sector institutions to build a joint base for a strategic partnership. This will help pump new blood into the economy and world financial markets to help them rise anew.

As international financial institutions battle the looming financial turmoil, Sheikh Hamdan – the 26-year-old second son of His Highness Sheikh Mohammed bin Rashid Al Maktoum, Vice-President and Prime Minister of the UAE and Ruler of Dubai – is thus instrumental in opening the door to financiers looking to turn challenges into opportunity in the emirate.

Blankfein expressed confidence in the UAE economy and stock markets despite the pessimism prevailing in the global economy. He said Goldman Sachs, which has been operating in DIFC since 2006, wanted to expand its investment activities and operations in the UAE and other countries in the region.

Today, more than ever, the leadership of government officials is much more sought to guide the economy through the slowdown. This also means the pressure on Sheikh Hamdan's shoulders is also mounting.

To this end, the accomplished horse rider and renowned poet, has not only focused in governance. He is also making a big headway in the business world.

QUALITY AND TRANSPARENCY
In his capacity as Chairman of the Executive Council, Sheikh Hamdan, also known as Fazza, has established the Real Estate Regulatory Authority (Rera).

Rera, a nodal agency that formulates, regulates, manages and licenses various real estate-related activities in Dubai, envisages a transparent and effective regulatory environment in which various entities in the real estate sector can conduct their business.

Rera, which has been successful in removing speculators from Dubai's property market to better mirror the fundamentals, is further looking at creating an online community and marketplace thus enabling various categories of stakeholders to interact and transact with each other.

Rera has been proactive in sorting out disputes and has been open to the media in discussing the market's current situation as well as the industry's outlook. Quality is another aspect that Sheikh Hamdan emphasised. He has been touring a number of departments and has been examining their performance, most of which he has been satisfied.

"The government is totally committed to service the Emirates both locally and federally," Robert Keay, Managing Director and Founder of Ethos Consultancy told Emirates Business. "The government is showing growing interest in improving customer service. Sheikh Mohammad launched in April last year the federal government excellence program and we did the measurement for that."

"We measure the performance of 40 ministries and authorities in every quarter. He is expecting 70 per cent of satisfaction so customer service is a strategic initiative to improve all government services in a customer service perspective."

On Sheikh Hamad's first visit to Dubai Central Laboratory (DCL), he expressed his satisfaction on the lab's international glory, which has come through international recognitions on its professional and technical capabilities, the certificates it issues, its credibility, the skills of its employees and the advanced equipment it uses.

He listened to a presentation on Dubai Central Laboratory Department by its director Hawa Bastaki, who explained the vision, mission and strategies of the department as well as the tasks undertaken by its employees and the international recognitions received by the lab for its credibility in conducting tests in different fields. She said the strategic map for 2007-2011 aims at enhancing customer loyalty towards the central lab, strengthening financial competency and effectiveness, development and diversification of services to the customers as well as its role in serving the society and preservation of environment, public health and safety by sticking to the rules and regulations and achieving legal and transparent environments.

It also includes co-operation with the partners and suppliers, outstanding performance in the field of corporate excellence, e-transformation, applying international specifications and best practices, developing urban plan features as regards encouraging human resources and its development.

Henrik O Madsen, President and CEO of DNV, said: "It's very interesting to see that government offices show to their employees that they are working into world-class standards. We don't see that in many parts of the world where the government is so strong."

FINANCIAL AND OPERATIONAL DISCIPLINE
Sheikh Hamdan has also instructed the Department of Finance in Dubai to follow the requirements of the emirate's strategic plan and implement the budget in accordance with the approved fiscal policy.

The "financial discipline" order was given when he approved the implementation of Dubai Government's general budget for the fiscal year 2008 along with plans to finance infrastructure projects such as roads, the Metro, sewerage discharge, housing for nationals and other public projects.

To gauge feedback and to pursue excellence, Sheikh Hamdan has issued an order to set up a Central Complaints Committee.

The committee will be permanent, under the Executive Council, and will look into complaints of staff working in all departments and establishments of Dubai Government.

The committee's mission will include the activation of communication channels and consultancy with bodies concerned and complaint committees at the government institutions in the emirate and drawing up a work mechanism to be referred to the executive council to be approved.

All decisions issued by the committee are final and cannot be appealed and are obligatory for employees and government bodies concerned in the complaint. And of course, Sheikh Hamdan acknowledges the fact that good deeds need to be rewarded and has, therefore, ordered new appraisals for government staff. He introduced the unified Government Performance Management System to all employees in different institutions and departments of the Dubai Government, in all categories and positions.

The decision of Sheikh Hamdan to adopt a unified system on employees of all grades without differentiation is a strategic step and is expected to enhance the organisational consistency within the different government entities as well as increase efficiency.

Sheikh Hamdan ordered all local government entities to start implementing the system, aimed at fostering a performance-oriented culture, where the individual employee's work is aligned with the strategic directions of their respective organisations, creating an environment where progress and reward are merit-based, and providing an equitable, fair and transparent framework of evaluating performances.

Sheikh Hamdan assigned the General Secretariat of the Dubai Executive Council to follow up the implementation of the new system and ensure all resources are available to leverage the capacity and skills of government employees, which is aligned with the Dubai Government Strategy 2015 goals, especially towards leveraging the desired targeted productivity of government entities and improving the level of services to society.

"The new performance management system is based on the principle of rewarding and recognising excellent performance, in order to motivate good performers, at every government authority and at all levels," Ahmad bin Byat, Secretary-General of the Dubai Executive Council, said.

"By adopting this system, the Dubai Government introduces a new phase in developing its human capital, which is a priority as per the directives of Sheikh Mohammad," he said. "The Dubai leadership instructed to distribute the yearly bonus earlier, before launching the system to convey a clear message about the seriousness of the government in motivating the employees and developing their skills."

The system will allow auditing the performance of government employees in a fair and equal manner, which is very fundamental for rewarding the latter adequately in a transparent and clear basis, whereby each and every employee will have the chance to prove his capabilities.

LOYALTY AND ENTREPRENEURSHIP
Not only is Sheikh Hamdan busy in promoting the identity of Dubai – the melting pot of culture, the place where the West meats East – he has also been kept busy in promoting the UAE's national identity.

For one, Sheikh Hamdan has been the chief planner of the UAE's 37th National Day celebration in Dubai.

The organising committee of the 37th UAE National Day celebrations, which was held under his directives, invited all government and private sectors, nationals as well as residents to come together in a joyous expression of their loyalty to the country during the festivities.

And on December 2, Sheikh Hamdan led a grand Union March in Dubai to mark the occasion. The spectacular parade drew the participation of board members of Dubai Executive Council, heads of government departments, a large number of civil servants, professionals, students, as well as scores of citizens and residents.

While thousands of residents and visitors enjoy the festivities, at the heart of the activities is the effort to "promote national identity" and "celebrate the pride that citizens have", says Saeed Al Nabouda, Chief Projects Officer of Dubai Culture and Arts Authority.

Promoting the UAE national identity is deeply embedded in Sheikh Hamdan's personality, as he himself is a keen poet under the moniker "Fazza" and often pens eulogies to his father.

But the nationalism business doesn't end from there as Sheikh Hamdan has to make sure that nationals are well taken care of.

Sheikh Hamdan last week inspected the housing project at Mazhar in Dubai, which is providing 80 houses of five bedrooms each for nationals.

The Dh85 million project, which replaced the Mushref locality, is being carried out by the Sheikh Mohammed bin Rashid Housing Establishment as part of instructions given by Sheikh Mohammed.

Sheikh Hamdan visited the infrastructure and service facilities, such as electricity, water, road and drainage, designed to meet the demands of the residents.

Later, Sheikh Hamdan was briefed on the scope and components of the project in term of architectural designs, total area and costs.

As the president of Sheikh Mohammed bin Rashid Establishment for Young Business Leaders (SME), Sheikh Hamdan also overseas the organisation's vision and mission of supporting small and medium enterprises in the UAE.

"The UAE's economic achievements have been built on the entrepreneurial energy of its Rulers and its people," Abdul Baset Al Janahi, the group's Chief Executive Officer. "Innovative economic ventures undertaken by our citizens have been largely responsible for the dramatic growth achieved.

"Today, as the UAE strives to become a bigger player in the international economic arena, entrepreneurship is even more critical to our success."

SPORTS, BUSINESS AND LEISURE
An accomplished horse rider, Shaikh Hamdan has won several awards at local and international endurance races, including the Gold Medal at the Asian Olympic Games. He is also the president of the Dubai Sports Council. But more than just being a leisure and hobby, Sheikh Hamdan set out his intentions to translate sports into a business.

In November, he ordered the setting up of a football investment company in the emirate. According to Khalifa Saeed Suleiman, Board Chairman of the club, the decision reflects Shaikh Hamdan's interest in finding "new sources of income" after investment in the sports sector, especially in football, has become an international industry.

He pointed out that investment in sports in general and football in particular has now become a feasible global industry that supports sports and football activities as well as contributes to developing and widening social participation in these activities.

Suleiman said the board will study mechanisms for the execution of Sheikh Hamdan's order within the strategic plan adopted by Al Ahli to become the first sports club in the region to achieve a shift in self-finance.

In addition, Sheikh Hamdan has already approved the designs of Dubai Beach Games Complex, which will host the 2009 Beach Soccer World Cup. It will also be a centre for soccer and other beach games.

Sheikh Hamdan gave instruction to start work on the project according to highest world standards. Jumeirah beach has been selected as a site for the project.

The Hamdan bin Mohammed Programme for Sports Leadership Development is also making good progress. The programme, designed to develop future sports national leaders capable of promoting the sustainable development of Dubai in the sports field, has announced it has concluded the inaugural orientation session for the programme's participants.

This follows the recent selection by Sheikh Hamdan of 33 candidates out of the 345 applicants from nine cities across the UAE, who made it through all the stages of the evaluation process to be part of the pioneering batch of the Hamdan bin Mohammed Programme for Sports Leadership Development.

During the orientation session, 30 activities, which will be conducted in the coming months, were explained to the participants, highlighting the significance of each activity in developing the participants' skills.

Held in co-operation with Mattar Al Tayer, Vice-President of Dubai Sports Council and Chairman of the Executive Office of Dubai Sports Council, the Hamdan bin Mohammed Programme for Sports Leadership Development orientation session serves as an important element of the entire sports leadership development programme as it provides the participants a concrete overview of the real concept and direction of the programme.

"The Hamdan bin Mohammed Programme for Sports Leadership Development has been conceptualised to be an important component of the long-term sports development programme of Dubai," Al Tayer said.

"Through this initiative, we look forward to producing top-calibre leaders who will help us realise the huge potential of sports as a vehicle for progress and sustainable development, knowing that this programme is considered to be a practical step in line with the forth objective of the Strategic Plan of Dubai Sports Council," he said.

Initiated by Sheikh Hamdan, the programme has been bolstered through a co-operation agreement with Britain's largest and most popular University, Manchester. The move will further develop Hamdan bin Mohammed Programme for Sports Leadership Development's comprehensive training schedule and expand its educational resources.

INTERNATIONAL RELATIONS

Sheikh Hamdan has been meeting up with a number of state heads and dignitaries. To name a few, he has received Hiroshi Okuda, a special adviser to Japanese Prime Minister Yasuo Fukuda. The two discussed bilateral relations between the UAE and Japan and explored ways of building a strong friendship and fruitful cooperation in various fields.

They exchanged views on the vast opportunities for joint investment between Japan and UAE and emphasised the need for an exchange of expertise in a number of areas, particularly solar power and other forms of alternative energy. And they stressed the importance of expanding trade and avenues of cooperation between the private sectors in both countries.

Okuda hailed the remarkable level of development and progress in the UAE. He said he hoped the coming years would see a strengthening of relations.
Sheikh Hamdan also received yesterday King Juan Carlos of Spain and his accompanying delegation. They discussed trade relations and ways to enhance ties in cultural and economic fields. King Juan Carlos expressed greetings to His Highness Sheikh Mohammed bin Rashid Al Maktoum, Vice-President and Prime Minister of UAE and Ruler of Dubai, and his wishes to him for good health.

Sheikh Hamdan and the King exchanged medals. Sheikh Hamdan decorated King Juan Carlos with a high order, while the latter presented to him a high Spanish order.

Sheikh Hamdan hosted a luncheon in honour of the king before he left for Dubai International Airport, where he was seen off by Sultan bin Saeed Al Mansouri, Minister of Economy, and Sultan bin Sulayem, Chief Executive of Dubai Ports and Customs Corporation, among others.
Follow Emirates 24|7 on Google News.