Customs seizes 3,000 items in 2009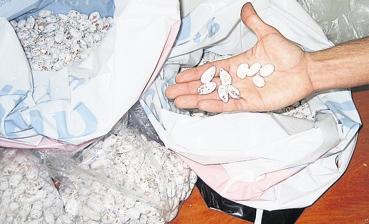 More than 3,000 smuggled narcotics, counterfeit and prohibited goods, banned archeological remains and illegally declared items have been seized by Dubai Customs in 2009, which averages to about nine cases everyday.

Commenting on the annual performance report obtained by Emirates Business, Ahmed Butti Ahmed, Director-General, Dubai Customs, said the department is committed to combating smuggling and protecting public health and contributing to economic development and protection of trademark owners.

"We foiled 3,280 attempts to smuggle narcotics, counterfeit items, restricted goods, fake bank cards and banned archeological remains through sea and air customs points last year," he said. "The department has full awareness of its role and responsibility of being in the frontline of protecting Dubai's economic achievements and social welfare of the country."

Dubai Customs is keen to appoint competent inspectors and develop their professional capabilities and skills by providing them with the required training in co-ordination with companies and security authorities, and supply them with up-to-date machines and tools and detection facilities.

He said despite all the massive challenges faced by the international economies as a result of the global recession affecting the movement of trade in 2009, Dubai Customs worked hard to ensure better performance and encourage businessmen and traders to ride out the crisis.

"The number of registered clients with the department rose to 101,629 by the end of 2009," Ahmed said.

In 2009, the department inspected 10,203 ships at the Dubai Creek, he said. Among last year's important confiscations were 65,000 medicinal pills filled with narcotics seized at Dubai Cargo Village in January 2009 while being smuggled into the UAE.

Intellectual property rights

Confiscations related to violations of intellectual property and trade-mark laws rose to 393 worth Dh24.3 million. In 2008, 236 items worth Dh35m were seized.

"The department continues its efforts to protect Intellectual Property Rights and trademark laws to help maintain Dubai's reputation as an economic hub," said Ahmed. "As a result of our co-ordination with trademark owners, the number of complaints rose to 114 compared to 81 in 2008."

Among the major achievements made in 2009 was the decline in the time needed to handle a complaint, which fell to 2.34 days from 5.11 days in 2008. All complaints related to the department were handled within the set timeframe of seven days, he said. "The department held 15 meetings with customers in 2009 to help avoid obstacles and difficulties."

Human resources

Dubai Customs has prepared an HR Business Strategy Document (2009-2011) directed towards attracting the best human resources and solid technologies at the right time and place with the aim to produce quality services to clients, stakeholders and society, said Ahmed. As for the major four purposes of the strategy, they were specified as: national capacity building, fostering the culture of excellence, building and developing employees' competencies and enhancing the HR systems.

Dubai Customs also organised 404 training sessions and one workshop both locally and abroad. Rach employee had 36 training hours in the year.

The emiratisation rating was recorded at 80 per cent, scoring, relatively, the highest percentage when compared to the other government departments, Ahmed said. Adopting open day meetings with different universities and students was aimed at recruiting the best graduates and emiratising employments, he said.

"By the end of 2009, there were 2564 employees at Dubai Customs with a six per cent increase in employment rate, whereas the total number of employees in 2008 was 2457," he said.

Co-operation

Dubai Customs launched co-operation and exchange initiatives with ministries and government organisations in the UAE, the GCC countries, other countries and international organisations such as the World Customs Organisation (WCO), Interpol and the World Trade Organisation (WTO) in order to enhance performance and adopt best practices.

Dubai Customs, in co-operation with WCO, drew up a comprehensive plan for the improvement of projects stated in the Columbus Diagnostic Report (issued by the WCO). It also introduced an action plan, which deals with realising the improvement opportunities stated in the WTO report in terms of trade facilitation, in collaboration with WTO analysts. The department also participated in a conference about the amended Kyoto agreement and the WTO talks for trade facilitation.

Other co-ordination efforts are represented by the department's participation in the development of the "Customs Procedures Unification" project in collaboration with Federal Customs Authority and the "Diplomats Inspection Technique" project in collaboration with the Ministry of Foreign Affairs.

Customer satisfaction

The rate of general customer satisfaction rose to 81 per cent in 2009 from 77.2 per cent in 2008, based on the client survey outcomes.

The survey showed that the rate of service delivery satisfaction increased to 80.5 per cent last year against 78.3 per cent in 2008.

The quality of services rate has increased to 81.8 per cent from 77.9 per cent in 2008. Customers' satisfaction with the department's premises and facilities increased to 80.3 per cent last year from 72.4 per cent in 2008.

The general good impression of customers increased to 81.3 per cent last year from 79.5 per cent in 2008.

Social responsibility

It achieved 90 per cent society satisfaction in a survey prepared to rate its corporate social responsibility initiatives and received the "Corporate Social Responsibility" Award for Large Companies in the Arab World.

In 2009, the department was among the first government entities to create a division within its organisational structure called the Community Affairs and Government Partnership Division.
Keep up with the latest business news from the region with the Emirates Business 24|7 daily newsletter. To subscribe to the newsletter, please click here.
Follow Emirates 24|7 on Google News.