Doctors save minor's life using rare technique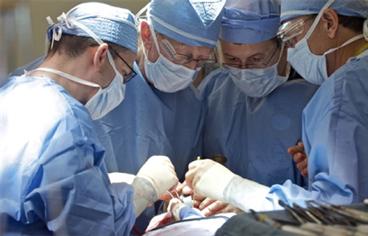 Doctors at Seha's Tawam Hospital in Al Ain have saved the life of a 13-year-old road accident victim using a rare technique that avoided potentially lethal surgery.

The young Emirati suffered multiple injuries to his chest following a serious car crash on the Al Ain-Abu Dhabi road, including a tear in his aorta, the largest blood vessel in the body. To repair the aorta, the main conductor of blood between the heart and organs, would normally involves a complicated and high-risk surgery.

However, a team of specialists at the hospital – from the divisions of Paediatric Cardiology, Interventional Radiology, Thoracic Surgery, Adult Cardiology and Vascular Surgery – used a procedure never before practised in the UAE, to close the tear without operating. The procedure was performed by Dr Mohamed Hamdan, Chief of Paediatric Cardiology, and Dr Ayman Saleh, Chief of Interventional Radiology. "We went in through a small opening in the groin vessels to reach the damaged area," Dr Hamdan said. "We then put a specially designed stent [a platinum frame, coated with 24K gold] covered with a special tissue into the damaged area to close the tear, and stop the blood from leaking outside the vessel wall."
Keep up with the latest business news from the region with the Emirates Business 24|7 daily newsletter. To subscribe to the newsletter, please click here.
Follow Emirates 24|7 on Google News.