Dubai Customs' Mirsal 2 launched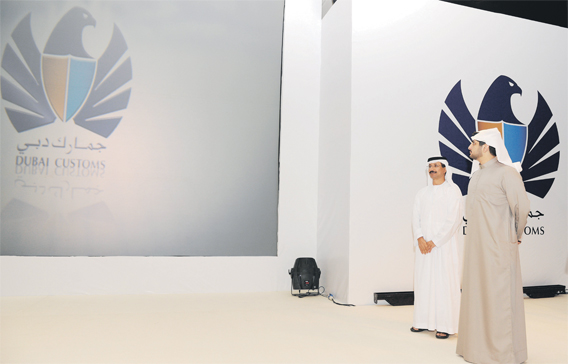 Under the patronage of His Highness Sheikh Mohammed bin Rashid Al Maktoum, UAE Vice-President and Prime Minister and Ruler of Dubai, Sheikh Maktoum bin Mohammed bin Rashid Al Maktoum, Deputy Ruler of Dubai, yesterday launched Mirsal 2, a comprehensive electronic customs declaration system developed by Dubai Customs.
The system facilitates legitimate trade movement, accelerates business procedures and improves quality service delivery standards, while taking into account national security interests, said Ahmed Butti Ahmed, Executive Chairman of Ports, Customs and Free Zone Corporation and Dubai Customs Director-General.
The launching ceremony took place at Jawhara Ballroom in Madinat Jumeirah in the presence of numerous dignitaries, directors of government departments, senior officials and prominent local, regional and international personalities, who saw a demonstration about the benefits of the system for clients and stakeholders, including its role in customs' core business.
The system has been designed by Dubai Customs as per standards of the World Customs Organisation over a period of two years in line with the needs of clients and key strategic stakeholders.
Seeking to achieve the utmost benefit, Mirsal 2 aims at enhancing service delivery standards, reinforcing co-operation with partners and providing an advanced electronic environment for Dubai Customs staff, said Butti Ahmed. He said the system is an embodiment of the directives of Sheikh Mohammed towards building an e-powered government, one that adopts the best international business practices in every field, advancing the economy and society.
"The system allows clients to complete clearance procedures electronically round the clock," he noted. "Users do not have to be present at the department's counter, which saves clients' and employees' time and effort. It saves costs for both clients and Dubai Customs by minimising operational costs and increasing revenues."
Mirsal 2 can identify suspicious cargo more precisely through the Risk Assessment Engine, which is supported by a wide and rich database collected from several local, regional and international sources that is analysed and handled through the customs intelligence system. This co-operation and partnership in exchanging information enables Dubai Customs to perform its security and economic role while facilitating trade.
The provision of signing transactions electronically by clients using the Digital Certificates is a unique feature of the system. Mirsal 2 contributes largely to maintaining the confidentiality and security of all declarations, added Butti Ahmed.
Follow Emirates 24|7 on Google News.