Dubai Police issue warrant against 11 Mabhouh killers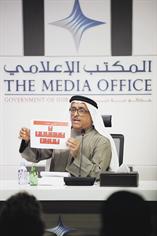 Eleven people bearing European passports, including a woman, were responsible for the assassination of Hamas leader Mahmood Al Mabhouh in Dubai's Al Bustan Rotana Hotel last month, investigations by Dubai Police have revealed.

Police yesterday showed a video clip taken by surveillance cameras at the Al Bustan Rotana where Al Mabhouh was staying, which contained the movements of the 11-member gang.

Announcing the names of the fugitives, police said all of them had legitimate passports from European countries and none used fake documents. The 11 are: Peter Elvinger, French; Kevin Daveron, Irish; Gail Folliard, Irish and the only woman; Evan Dennings, also Irish; Michael Bodenheimer, German; Paul John Keeley, Melvyn Adam Mildiner, Stephen Daniel Hodes, Michael Lawrence Barney, James Leonard Clarke and Jonathan Louis Graham, all British.

Dhahi Khalfan Tamim, Chief of Dubai Police, said the photos and names of the fugitives would be handed over to Interpol so that they could be tracked down through legal channels. Also, their photos will be displayed on the police website.

Tamim said Al Mabhouh's security cover was penetrated before his arrival in the country, though he did not use his real name when he entered the UAE. While forensic reports will be revealed soon, which will accurately define the method of the murder, Tamim said prima facie it seemed the murder was likely done through administering an electrical shock or by strangulation.

The assassins allegedly came into Dubai before the arrival of Al Mabhouh and set up four teams. According to CC TV recordings, the first three teams had two members each and monitored the victim's movements, while the fourth team with five members, executed the crime.
Follow Emirates 24|7 on Google News.