Dubai's philanthropy crosses all boundaries of the world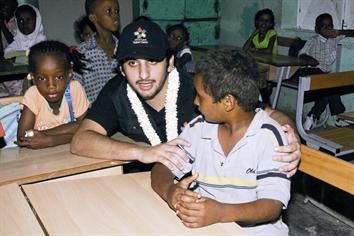 Dubai carries on many philanthropic programmes to help the needy and poor across the world. The city has established its reputation as one, which believes in giving and reaching out to those who are less privileged.

His Highness Sheikh Mohammed bin Rashid Al Maktoum, Vice-President and Prime Minister of the UAE and Ruler of Dubai, has launched many establishments in the city for the benefit of the society. Dubai Cares is one such programme aimed at improving lives of the unfortunate.

Dubai Cares takes a comprehensive approach in identifying and addressing universal obstacles to education. It works in partnership with global aid and development agencies, as well as private corporations to improve children's access to education in the neediest of developing nations, helping children and their communities escape the trap of poverty while becoming active contributors to sustainable development.

Pivotal to their work is the active engagement of local communities in Dubai and the UAE to donate money and volunteer their time to support the cause. The multicultural community has shown overwhelming support for Dubai Cares since its inception.

Besides the basic right to education, Dubai Cares also focuses on other vital things needed for sustenance like health, nutrition, water and sanitation.

In partnership with aid agencies, Dubai Cares supplies nutrition supplements and works to increase awareness of health and nutrition in developing nations, reducing malnutrition and diseases while increasing enrolment and regular attendance of students in primary schools.

In January 2009, Dubai Cares chaired the first in a series of roundtable forums on the relationship between water, sanitation and primary education in the developing world. Together with Unicef, Save the Children, Oxfam, Care International and Water Aid, the forum defined statistical indicators that link access to clean water and access to education, and analysed advantages among the approaches of Dubai Cares and its global partners to create a unified cluster programme model.

Potable water and hygienic sanitation facilities in schools are essential to ensuring a complete and integrated education solution. Access to poor quality water and lack of clean sanitation increases poverty through reduced family income and elevates absenteeism.

In 2009, Dubai Cares mobilised international aid agencies to prioritise and integrate cost effective and rapid high impact interventions in education programmes in developing nations to ensure sustainability and community development.

In January 2009, Dubai Cares chaired the first in a series of roundtable forums on Water, Sanitation and Hygiene (Wash) in schools. The objective of the roundtable was to create an effective programme model that will maximise impact in developing countries where lack of access to primary education is attributed to deficiencies in clean water and proper sanitation.

The lack of gender-separate bathrooms keeps girls out of school. Over the next five years, Dubai Cares will build 300 new facilities in rural Yemen alone to overcome this obstacle. Children are the most effective community change agents. By promoting effective hygiene practices in schools and in their communities, Dubai Cares will help these students reduce the spread of disease, improve enrolment and attendance in primary schools – improve academic achievement while promoting gender equality.

Dubai Cares also deals with emergency situation. For example, during the Cyclone Nargis, in Myanmar in May, 2008, the organisation delivered one of the first aid shipments to the country, containing 60 tonnes of relief supplies, including 10,000 school kits, thousands of water purifiers and 200 temporary structures to serve as schools and child protection centers in affected areas.

Dubai Cares' commitment to providing Myanmar's children with the comfort of a caring environment hastened their rehabilitation from the trauma of the cyclone – followed by a quick return to formal learning.

The efforts of Dubai Cares in Gaza are commendable. It helps students in the war-torn area and has partnered with La Chaine de l'Espoir to provide emergency medical assistance to the alarming number of child casualties and serious injuries.

To help people in Gaza, the UAE has launched many nationwide donation campaigns and charity drives under the slogan 'Children in Gaza are our children', which aims to collect donations from people in Dubai to provide assistance to Palestinian children.

E-Cares, a campaign of Dubai Cares, is a web-based community fundraising initiative that provided high school students in Dubai an opportunity to play the role of fundraiser as well as donor to charities that support children's access to primary education globally.

In April 2009, Dubai Cares announced funding for the top 12 charities. The charities receiving funding are based locally and throughout the world. The total amount awarded to all the charities is approximately Dh500,000.

Some 1,350 students submitted 350 campaigns as part of the e-Cares initiative, which provided students a virtual platform to use their social networking skills in support of children's primary education all over the globe.

Keeping in mind the importance of community work, Dubai Cares launched a community campaign to mobilise Dubai's multicultural society in support of this important global issue. Sheikh Mohammed recognised the desire of local residents to play a larger role in global issues. Today, Dubai Cares is creating opportunities for Dubai's diverse community to fulfil its role as a proactive global citizen striving to achieve and contribute to sustainable development.

Dubai Cares has partnered with the Bill and Melinda Gates Foundation, Care International, Médecins Sans Frontières, Microsoft, Oxfam, Room to Read, Save the Children, Unicef and UNRWA.

The philanthropic establishment is working in 20 countries and communities, including Bangladesh, Bosnia-Herzegovina, Cambodia, Chad, Comoros Islands, Djibouti, Ethiopia, Laos, Maldives, Mauritania, Nepal, Niger, Occupied Palestinian Territories, Pakistan, with Palestinian refugees in Jordan and Lebanon, South Africa, Sri Lanka, Sudan, Yemen and Zambia.

Dubai Charity Association (DCA), another important organisation in the city, practices charity and works in the execution of the various charity projects in and out of the country.

Their external projects span many countries such as Indonesia, Thailand, Tajikistan, Uganda, Senegal, Ghana, Benin, Burkina Faso, Mali, Niger, Togo, Mauritania, Gambia and Nigeria.

Besides the many annual programmes that the Dubai Charity Association runs, the organisation is helping orphans and people with special needs.

One of the major tasks and activities of the organisation is to sponsor the orphans. The charity provides financial assistant, schooling and social needs.

Within the country, such children have been receiving a great deal of care as DCA provides stipulent in addition to their regular financial assistance such as school bags, Eid clothing, Al Addahi meat, Ramadan food and ration. Entertainment trips and miscellaneous activities are organised throughout the year.

To help orphans outside the country, DCA has created orphanage centres, which provide housing, food, schooling and medical care in Burkina Faso, Ghana and Indonesia. The organisation also provides training course for people with special needs.

The Dubai Centre for Special Needs is another important charity organisation in the city and its endeavours are noteworthy. It's a non-profitable institution that provides the highest standards of service in specialised education and therapy, for children with various disabilities.

Dubai Centre for Special Needs exists to serve the unique academic, physical, social, and emotional needs of its students. All aspects of the Centre's organisation, curriculum, and activities are child-centred and designed to accommodate individual learning styles so that all may experience success.

Her Highness Princess Haya is also widely involved in charity programmes. In 2008, an annual charity campaign, whose patron is Princess Haya, granted Dh570,000 to the UN refugee agency for sports programmes and gender awareness courses that it runs.

The funds were expected to be used for projects in north-east Kenya's Dadaab camp, home to 184,000 mainly Somali refugees. These will include interactive training sessions that combine sports instruction with awareness courses on gender-based violence.

Princess Haya is a member of the advisory board of UNHCR's Women Leading for Livelihoods initiative. In the past, she has arranged donations for UNHCR projects that benefit refugee women and youth.

The Dubai Autism Centre is a not-for-profit organisation that offers therapeutic, counselling and educational services to children affected by autism, their families and caregivers.

Noor Dubai is an initiative that aims to help the World Health Organisation and the International Agency for the Prevention of Blindness in achieving their goals outlined in "Vision 2020: the Right to Sight".

This is an ambitious initiative, which aims to deliver preventive eye care to over one million people as part of its drive to realise its vision of a world free from curable forms of blindness. Noor Dubai is the city's another effort demonstrating Dubai's continued commitment to being a responsible global citizen and to helping our less fortunate brethren.

Noor Dubai implements a variety of programmes in order to achieve its mission to treat and prevent blindness. These programmes focus on three aspects: treatment, prevention and education.

The therapeutic activities involve ophthalmologic consultations, disease management and surgeries to restore sight to individuals suffering from reversible blindness and visual impairment.

Prevention programmes aim to eliminate avoidable forms of blindness and visual impairment in developing countries supported by evidence-based epidemiological and public health research.

Noor Duba is education initiatives involve increasing public awareness of the detrimental impact of blindness and visual impairment, and the training of health professionals and policy makers.

The humanitarian services of Mohammed bin Rashid Al Maktoum Humanitarian and Charity Establishment go beyond Dubai and the UAE to all needy people around the world. These services include financial aid to needy families, both national and expatriate, in addition to education and food. They include maintaining and building houses for citizens, financing charitable projects in the education and health fields, building mosques outside the UAE, providing aid to those with special needs and for sponsoring orphans.
Keep up with the latest business news from the region with the Emirates Business 24|7 daily newsletter. To subscribe to the newsletter, please click here.
Follow Emirates 24|7 on Google News.