Green Line viaducts 60% complete: RTA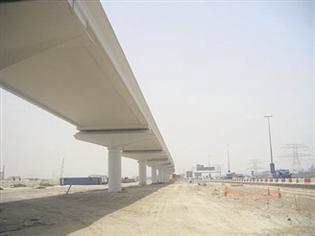 The Roads & Transport Authority (RTA) announced yesterday erection works of the precast viaduct spans for the Green Line is 60 per cent complete.

"The number of precast viaduct spans for the Green Line is 447 spans. Erection works are still in progress with around 60 per cent complete," said Adnan Al Hammadi, Director of Rail Construction Projects at RTA Rail Agency. "So far 260 spans have already been installed in the viaduct of the Green Line."

RTA also announced the completion of Dubai Metro viaduct precast works in the beginning of December 2008 at its Jebel Ali Precast Yard, which is the biggest precast yard in the region.

Al Hammadi said the Jebel Ali Precast Yard covers an area of 55 hectares and contains 10 gantry cranes with a capacity of 70-90 metric tonnes, seven tower cranes, and 800 workers.

"Sixty-three moulds were used to produce 16,479 segments for the Red and Green Lines. Maximum daily production reached 47 segments per day. The daily concrete consumption at peak time was around 800 m3 per day and the consumption of fabricated steel at peak time was 200 tonnes per day," he said. "Concrete consumption reached 345,172 m3 of which 256,940 cubic metres were for the Red Line and 88,232 cubic metres for Green Line. Total rebars reinforcement reached 75,400 metric tonnes, of which 55,800 mt were for the Red Line and 19,600 mt for the Green Line."

He added: "The storage capacity of the yard reaches 3,000 segments and it was increased with the addition of a temporary storage yard at Al Warqa to raise the overall storage capacity to 4,000 segments. The storage areas are served by a fleet of 22 specialised transporter trailers working on shift basis 24 hours a day to lift the segments to various installation sites."

Works at the pier cap shells casting yard at Jebel Ali were completed by the first week of December, which included 12 moulds. The total concrete consumption reached 38,125 cubic metres (28,700 cubic metres for the Red Line and 9,425 cubic metres for the Green Line). Total rebar reinforcement was 17,020 mt (12,800 m3 for the Red Line and 4,220 m3 for the Green line).

Viaduct works are progressing according to schedule and for the Red Line 1,249 spans were erected by end of July 2008.
Follow Emirates 24|7 on Google News.