Human resources at heart of government, says Mohammed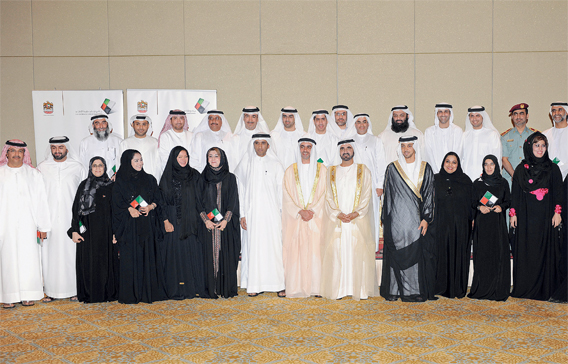 His Highness Sheikh Mohammed bin Rashid Al Maktoum, Vice-President and Prime Minister of the UAE and Ruler of Dubai, attended the graduation ceremony of the first batch of UAE Government Leaders Programme at the Emirates Palace in Abu Dhabi.
The event was also attended by Deputy Prime Minister and Minister of Interior Lieutenant-General Sheikh Saif bin Zayed Al Nahyan and Deputy Prime Minister, Minister for Presidential Affairs Sheikh Mansour bin Zayed Al Nahyan, other ministers and a number of senior officials.
The ceremony started with the National anthem then a documentary on UAE Government Leaders' workshops was shown.
Abdulla Al Basti, Director of the UAE Government Leaders Programme, gave a speech expressing his thanks and gratitude to the UAE leadership for their efforts to lead the UAE's citizens towards innovation and excellence in various fields. Al Basti said the graduates attended special training courses in the United Kingdom, Australia, Canada and New Zealand. Just prior to the closing ceremony, Sheikh Mohammed posed for photographs with the 57 graduates.
Sheikh Mohammed congratulated the sons and daughters of the country working in the ministries and institutions of the federal government for undertaking the training and the education programme that lasted for 18 months. He said the development of human resources is at the heart of concerns and priorities of the UAE Government strategy, which embodies the directives of UAE President His Highness Sheikh Khalifa bin Zayed Al Nahyan.
Sheikh Mohammed renewed his confidence in the ability of young people to lead and take responsibility for growth and development to reach the objectives behind the UAE National Charter 2021.
The programme
Launched in February 2008, the UAE Government Leaders Programme aims to develop visionary leaders with the potential to drive the strategic objectives of the UAE federal government.
The programme comprises various training programmes that promote best international practices in the government sector.
In addition to exploring latest practices in strategic thinking, planning and implementation, the programme helps participants enhance core skills in key areas such as, financial management, human capital management, project management, information technology and internal operations excellence.
The programme focuses on UAE federal employees across three different levels: the Executive Leaders Programme, which targets executive directors and directors at the federal entities; the Strategic Leaders Programme, which targets 20 directors-general; and the Future Leaders Programme, which targets 30 assistant directors and lower cadres.
Follow Emirates 24|7 on Google News.