Israel blamed for murder of top Hamas leader in Dubai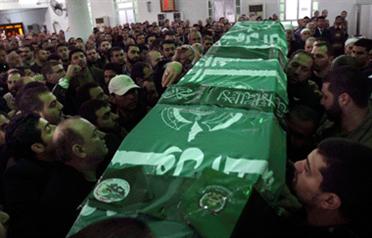 "Mahmud Abdel Rauf al-Mabhuh died a martyr in Dubai on January 20, 2010," Hamas said in a statement released in its Gaza stronghold.
"We hold Israel responsible for the assassination of our brother and leader," the statement said, adding Hamas would "retaliate for this Zionist crime at the appropriate moment."
There was no immediate Israeli reaction to the accusation.
The Dubai government said police suspect a criminal gang of mostly European passport holders to be behind the killing, but that they had already fled the country.
"Preliminary investigations indicate that the crime was committed by a professional criminal gang that was following the victim before he came to the United Arab Emirates" on January 19, it said.
Dubai police will work with Interpol to capture the suspects, it said in a statement, adding that "the culprits left a trace behind that points to them and will help in chasing and arresting them."
A brother of Mabhuh charged that Israel's Mossad overseas intelligence agency was behind the killing believed to have been conducted by two people.
"The first results of a joint investigation by Hamas and the (United Arab) Emirates show he was killed by an electrical appliance that was held to his head. He was then strangled with pieces of cloth," Fayeq al-Mabhuh, who lives in the Hamas-run Gaza Strip, told AFP.
"Material was sent to a Paris laboratory which confirmed he was killed by electric shock," he said.
He said his brother was in charge of obtaining weapons for Hamas and was in Dubai on a mission for the Islamist movement.
The Hamas official had already been targeted in the past, the brother said, adding that several months ago he was taken in a coma to a hospital in Damascus where doctors later told him he had been poisoned.
A funeral was held on Friday in the Syrian capital where Mabhuh, a 50-year-old father of four, had been based for many years.
Thousands of mourners attended as Mabhuh's body, wrapped in a Hamas flag, was lowered into a grave at the Palestinian refugee camp of Yarmuk on the outskirts of Damascus.
His son, Abdel Rauf al-Mabhuh, was among mourners at the solemn ceremony who waved green flags and chanted: "There is no God but God and Mabhuh is God's beloved."
Hamas political supremo Khaled Meshaal, who lives in exile in Damascus, said after attending the funeral: "We will avenge the death of this great man ...
"You are deluding yourselves if you think we will abandon the choice of resistance ... It is true that this assassination has aggrieved us, but this is war between us: you kill us and we will do the same to you," he said.
"The war between us is painful, it will last several decades."
The head of the Hamas government in the Gaza Strip, Ismail Haniya, meanwhile, visited Mabhuh's family in Jabaliya refugee camp.
Born in Jabaliya, northern Gaza, Mabhuh was a founder of the Ezzedine al-Qassam Brigades, the armed wing of Hamas.
Hamas said Mabhuh was behind the capture of two Israeli soldiers in separate operations in 1989 during the early stages of a 1987-1993 Palestinian uprising. Soldiers Avi Sasportas and Ilan Sadon were both later killed.
Mabhuh also masterminded a number of other attacks on Israeli targets and Israeli authorities demolished his home in Gaza in retaliation.
Mabhuh spent several spells in Israeli custody. After his last release, "he spent his life being hounded by the Zionist occupier until he succeeded in leaving the Gaza Strip," Hamas said.
Over the years, a number of Hamas leaders have died in operations Israel calls "targeted killings".
In 2004, Hamas founder Sheikh Ahmed Yassin was killed in an Israeli helicopter gunship attack in Gaza. One month later, another Hamas leader in Gaza, Abdel Aziz al-Rantissi, was killed when two missiles hit his car.
Follow Emirates 24|7 on Google News.
The Palestinian movement Hamas on Friday accused Israel of the assassination in Dubai last week of a founder of its military wing and vowed to avenge his death.