It's raining losses for UAE firms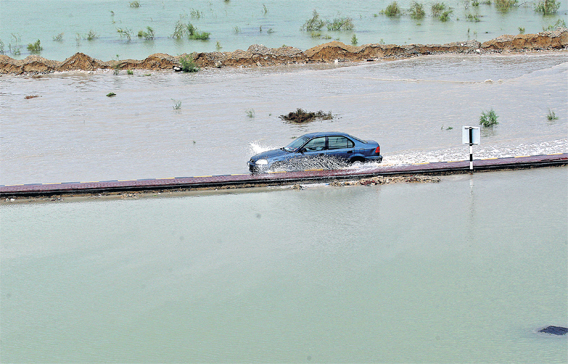 What's the impact of erratic showers on business in the UAE? Interesting question, but one that is hard to answer in dirham terms.
The IMF reckons the UAE's GDP would reach Dh909.6 billion this year. A total shutdown for a day would, in effect, cost the country's economy close to Dh2.5bn.
While the recent showers haven't caused a total standstill by any stretch of imagination, even a partial shutdown over three days is bound to have an impact that could wipe out certain businesses' monthly profits (think a single-outlet restaurant or retailer stuck on the wrong end of a water-logged road or a jewellery outlet in the flooded section of a mall).
The Roads and Transport Authority (RTA) reckoned in October last year that the cost of time wasted in traffic jams in Dubai is estimated at Dh4.6bn every year.
Now let's do some math. Although that figure is for 365 days, discounting the two days of weekend during which there aren't too many clogged roads, it Dh4.6bn for 261 days, or a little more than Dh17.6 million a day.
And that's just for the time wasted during 'normal' traffic jams in Dubai. Add to that the loss of business due to inaccessibility of business/retail outlets or flooding of malls, loss of manhours due to employees being late to office or, in cases, not being able to reach their workplace at all, disruptions in flight connections etc, and then multiply that with the number of emirates in the UAE, and one is sure to arrive at a number that is in hundreds of millions – if not in single billions – of dirhams for the entire country.
Parts of roads in Dubai and across most of the UAE have been inundated with water over the past two days, making certain parts of the emirates inaccessible.
Peyman Parham, Director of Marketing and Corporate Communications at RTA, told Emirates Business that even though the weather was looking better (as at 3pm yesterday), more showers were expected in the following days.
"Don't be out on the roads if you don't need to be," Parham urged, adding that "commuters should, whenever possible, use mass transportation services – the Metro, buses, feeder buses" to reach their destinations as "it is much safer to do so."
"All [Dubai] roads are OK now," he said, "apart from a section of Emirates Road, which has been blocked and we are diverting traffic to optional routes," he said.
According to an RTA media release yesterday, more than 18 million gallons of water had been pumped out from different locations in Dubai itself, and the Sharjah-bound Emirates Road was the most impacted route due to the large amount of rainwater accumulated on Emirates Road, past National Paint bridge in Sharjah."
Construction trucks and lorries usually take the Emirates Road during daytime to deliver material as other roads in Dubai are reserved for commuting purposes. With a section of the Emirates Road being closed, construction traffic is sure to have been impacted.
But it isn't just corporates that face the brunt. Not only do less people venture out for dinner or an evening out if it's pouring cats and dogs on the streets, less tourists tend to visit when there's a possibility of showers disrupting their potential sun-and-sand itinerary.
Moreover, as happened yesterday, some schools sent back students earlier than usual lest there was heavier congestion on roads later, with a warning that today could be a school holiday in case showers didn't stop and the condition of roads didn't improve by late evening.
While students not attending school on a normal day doesn't impact business directly, it does impact their working parents, some of whom would have to take a break from their office to tend to their young ones, thus impacting the economy indirectly. See also Page 34
Flights, airports normal
"Dubai Airports: Everything is normal. There have been no changes made in any of the flights' schedules passing through Dubai International due to heavy rains. There have been no flight delays so far.
"Emirates spokesperson: Emirates confirms that none of its flights were cancelled or diverted. A number of flights were slightly delayed including EK0510 from Dubai to Delhi, EK133 from Dubai to Moscow and EK763 from Dubai to Johannesburg.
"Flydubai: Flydubai's flights yesterday have not been affected by the weather with all morning flights departing on schedule.
Keep up with the latest business news from the region with the Emirates Business 24|7 daily newsletter. To subscribe to the newsletter, please click here.
Follow Emirates 24|7 on Google News.