'Leading from the front, His Highness has inspired the country'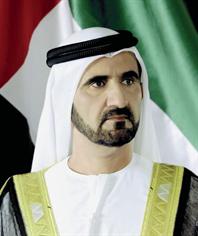 High-ranking figures from the worlds of business and government paid tribute to His Highness Sheikh Mohammed bin Rashid Al Maktoum, Vice-President and Prime Minister of the UAE, on the fourth anniversary of his accession as Ruler of Dubai. They praised his visionary leadership qualities and wisdom, and highlighted his overriding concern for the welfare of UAE nationals.

Dr Hanif Hassan,

Minister of Health

"Sheikh Mohammed attaches special importance to the country's health services as he believes the health of UAE Nationals is the most precious thing. Field visits by Sheikh Mohammed to hospitals to inspect health services confirm his keenness to improve therapeutic services and bring them up to international levels. Sheikh Mohammed's decision issued recently to set up Federal Health Authority will enhance and develop the healthcare system."

Abdul Aziz Abdullah Al Ghurair,

Speaker of the Federal National Council

"His Highness Sheikh Mohammed bin Rashid Al Maktoum is a renewed energy of success, which never ends and this energy is the key to the various successes achieved by the Emirate of Dubai and the UAE. Sheikh Mohammed's positive energy and hard work is what drives all the men of state from government officials to business executives to the people of the UAE to pursue hard work and excellence to excel in both development and performance.

"His Highness placed a significant vision for the country and ensured its transformation into reality, which the world can witness despite various regional and international challenges. His Highness's presence in all fields of work inspecting the progress of projects and ensuring it is up to high standards as well as his main priority of providing the best lifestyle for all UAE nationals. These factors were the main drivers to turn the vision into reality and form a catalyst for development and innovation to achieve more successes.

"Today marks the inauguration of the world's tallest building by His Highness, which is yet another distinctive achievement by Dubai to be added to the pages of history. This is another milestone in the development and progress, which transformed the emirate into the world's fastest growing city and helped make the UAE a leading regional and international nation.

"We at the Federal National Council (FNC), understand the importance of the responsibility towards this country and its citizens in all aspects of life and its requirements as an integral part of Sheikh Mohammed's long-term vision.

"His constant visits to the FNC and participation in the Council's topics demonstrates his commitment to this country and its people. And this motivates us as individuals and as working groups to set high standards of dedication to accomplish more parliament achievements."

Ahmed Shabeeb Al Dhaheri,

First Deputy Speaker, Federal National Council

"The people of the UAE regarded Sheikh Mohammed's accession as Ruler of Dubai four years ago as a good omen as they were used to his wisdom and clear vision.

"His selection by Supreme Council members as Prime Minister resulted from his known background in planning, drawing up and implementing policies.

"Everyone can see how he applied strategic planning in the federal government and facilitated and simplified decision-making. Follow-up field visits became one of the means of implementing policies."

Salah Al Shamsi,

President, Federation of the UAE Chambers of Commerce and Industry, and Chairman, ADCCI

"Over the four years of Sheikh Mohammed's rule, Dubai has witnessed huge achievements such as Dubai Metro and

Burj Dubai. Sheikh Mohammed has built projects that generate great financial resources for Dubai and put the emirate on the global map. Foreign investment, trade and the number of tourists increased. This success has helped Dubai to resist the most difficult financial crisis ever seen in the world, and this confirms the wisdom of Sheikh Mohammed."

Matar Al Tayer

Chairman and CEO of Roads and Transport Authority

"Since his accession as Dubai Ruler on January 4, 2006, work rhythm accelerated, initiatives increased and the emirate made big achievements in a short time, which enabled Dubai to come 35th in the evaluation of best international cities in the field of infrastructure. This is clear evidence on the comprehensiveness of development process seen in the emirate which depends on an integral vision and strategy of growth and development."

Major-General Mohammad Ahmad Al Merri,

Director-General, Dubai General Department of Residency and Foreigners Affairs

"Sheikh Mohammed's greatness is manifested in his continual directives to provide all means of comfort for people who deal with ministries, authorities and departments.

"We in the General Department of Residency and Foreigners Affairs implemented his directives and the subsequent development of electronic services are a materialisation of his vision to facilitate procedures for the public, as he firmly believes the individual is the basis of development, advancement and prosperity."

Hussain Al Qemzi,

Group CEO, Noor Investment Group

"Sheikh Mohammed has proved himself to be a prescient leader of change. Leading from the front, His Highness has inspired his people to create a modern, cosmopolitan metropolis that ranks alongside the great cities of the world.

"Thanks to the economic vision of His Highness, Dubai has been transformed into a world-class financial and trading hub. The fact that only five per cent of Dubai's GDP now comes from oil indicates the success of the policies the government has implemented to diversify its economy."

Hamad Buamim,

Director-General, Dubai Chamber of Commerce and Industry

"The inauguration of the Burj Dubai, which coincides with the fourth anniversary of Sheikh Mohammed's accession, proves that Dubai is ready to meet its commitments and complete its major strategic projects. This grand opening, which comes at the start of a new year of economic recovery and progress, will boost investor confidence in Dubai."

Dr BR Shetty,

Managing Director and CEO, NMC Group

"I congratulate and extend my warm greetings to Sheikh Mohammed in recognition of his eminence as a political leader and his contribution towards the progress and prosperity of his people and the country.

"Today, as we commemorate the anniversary of his accession, I would like to express my sincere and heartfelt gratitude to Sheikh Mohammed for his unconditional support for the business community.

"The UAE is fortunate to have such a visionary leader and I am confident that Dubai will continue to progress in the years to come under his able leadership."

Michael Miebach,

Managing Director, Mena, Barclays

"It is Sheikh Mohammed's uncanny ability to envision, and then realise the vision that distinguishes him. His spirit of perseverance in the face of challenges is an inspiration for today's youth and future leaders."

Ahmed Butti Ahmed,

Director-General, Dubai Customs

"Over the past four years Dubai has consolidated its success and advancement in different economic, commercial and social sectors by virtue of the wise directives of Sheikh Mohammed. In addition, government work at the national level was successful thanks to his directives and wise vision."

Khalifa bin Omair bin Yousef,

CEO, Omair bin Yousef Group

"The world, in general, and UAE nationals, in particular, are grateful to Sheikh Mohammed for transforming yesterday's dreams into reality. This is seen in the way that he transformed Dubai from a local emirate into a global example of economic growth and prosperity. Over the past four years we saw how Sheikh Mohammed interacted with UAE nationals, listened to their complaints and issued orders to solve their problems immediately."

Arif Obaid Al Muhairi,

CEO, Dubai Statistics Centre

"The march of Sheikh Mohammed since he became Ruler of Dubai and his election by Supreme Council members to the positions of Vice-President and Prime Minister of the UAE is characterised by his continual efforts to raise the reputation of both the nation and nationals.

"These achievements are reflected in the economic, social, educational and health areas and the benefits felt by both nationals and expatriates.

At the local level in Dubai, everyone is aware of the advances and developments that have been achieved in government institutions and with the infrastructure. Decisions taken by Sheikh Mohammed to deal with Dubai's issues were an example of how a leader who is confident of his abilities can stand tall. At the federal level, his role as Prime Minister meant he gave his attention to all the emirates."

Khalid Esbaitah,

CEO and Managing Director, Mazaya

"Sheikh Mohammed's leadership and vision have played a vital role in the shaping of Dubai's future, which remains bright even in the face of the challenges posed by the worldwide recession. We have the utmost confidence that His Highness will continue to lead us toward greater prosperity in the years to come. There is a great deal to look forward to as indicators point towards a recovery from the recession across the world."

Hesham Al Qassim,

Chief Executive Officer, Dubai Real Estate Corporation and wasl

"As we begin a new decade, it is a great time to reflect and celebrate achievements. Taking pride in the place Dubai has taken on the global podium, it also becomes important for us to acknowledge the foresight and diligence of His Highness Sheikh Mohammed bin Rashid Al Maktoum, Vice-President and Prime Minister of the UAE and Ruler of Dubai, who is also regarded as one of the most influential individuals in the world.

"Four years after Sheikh Mohammed's assumption of the reins, we at Dubai Real Estate Corporation and wasl Asset Management Group proudly celebrate his visionary leadership and thank him for making Dubai a home for people from all over the world. We also pledge to continue looking towards him for inspiration and guidance as we move forward on the path of sustainable development and growth."

Ali E Alshaqoosh Al Mueen,

Deputy CEO, Ajman Bank

"On behalf of the team here at Ajman Bank, we would like to offer our best wishes to Sheikh Mohammed, Dubai and the UAE on the fourth anniversary of his accession.

"The past year had posed many challenges for the Emirates but Sheikh Mohammed and the rest of the UAE's leadership has risen to the occasion with the strength, wisdom and vision we have all come to admire and respect.

"As we enter 2010 we hope to see the end of the challenges that have plagued the world's economies. Last year, in particular, Sheikh Mohammed proved to the world that Dubai stands united with the other emirates."

Mohammed Nimer,

CEO, MAG Group Property Development

"As developers, we continue to believe in Sheikh Mohammed's vision. Dubai's progress may be delayed but it will never be stopped. The property sector will take time to recover and we would like to see more regulation in the real estate market."

Mohammed Ali Al Neaimi,

CEO, Mawarid Finance

"On this occasion, I would like to remind the whole world of the achievements that have been attained in Dubai at all levels. These achievements prove that Sheikh Mohammed was always ahead of his age.

Sheikh Mohammed is an outstanding leader and I am confident that further achievements will be attained under his rule."

Raj Shetty,

Chairman and Managing Director, Ramee Group of Hotels and Resorts

"Sheikh Mohammed is a great visionary leader who has put Dubai on the world map. He plans ahead to ensure the progress of Dubai and the growth that we see today in Dubai is purely due to his foresight. We're quite confident that his efforts will bear rich dividends in the future, not just for Dubai but for the whole of UAE."

Dr Ram Buxani,

President, ITL Group – Cosmos

"His Highness, our dear Ruler is indeed God's gift. In past four years, the wisdom and resilience, which Sheikh Mohammed has shown, is indeed unmatched and I have every reason to believe that Dubai will continue to climb unabated under his wise stewardship. I pray to Almighty God to give long and healthy life to Sheikh Mohammed to lead this country for many decades to come."

Elias Ashkar,

Regional CEO, Middle East and North Africa, Saatchi & Saatchi

"Sheikh Mohammed has always been a man of vision, ocourage and action ... a true leader. The scale, the scope, the intensity and the speed of what was achieved in Dubai is unprecedented and is a result of his leadership and his vision."

Kamal Vachani,

Director, Al Maya Group, Dubai, and Regional Director, Electronics and Computer Software Export Promotion Council

"The level of development achieved by Sheikh Mohammed is remarkable. Dubai has grown very rapidly as the region's leading business hub and the whole world is talking about it."

Dubai has carved a niche for itself on the map of the world as a sought-after destination for trade, investment and peaceful living. Dubai has everything – trade, shopping, business and tourism."


Selfless service to homeland and citizens

Her Highness Sheikha Hind bint Maktoum bin Juma

Al Maktoum

Wife of His Highness Sheikh Mohammed bin Rashid Al Maktoum, Vice-President and Prime Minister of UAE and Ruler of Dubai, and Chairperson of Sheikha Latifa bint Mohammed bin Rashid Al Maktoum Award for Child Creativity

"I am pleased and honoured to offer sublime congratulations and felicitations to His Highness Sheikh Mohammed bin Rashid Al Maktoum on the occasion of the fourth anniversary of his accession to power in the Emirate of Dubai.

"They really are four years of continuous, selfless service to the homeland and the citizens. The impressive achievements of His Highness during this short span of time, made pioneering contributions for supporting and promoting sustainable development in our beloved country. These radiant four years of hard work provided light for national work and triggered achievements that exceeded all perceptions and expectations.

"His Highness has a big heart that embraces everyone with love, affection and care. His benevolence towards children is remarkable and his generosity always painted smile on the lips of the deprived. This has been testified by innumerous humanitarian gestures of His Highness."
Keep up with the latest business news from the region with the Emirates Business 24|7 daily newsletter. To subscribe to the newsletter, please click here.
Follow Emirates 24|7 on Google News.