Licence delay to set back opening of DWC airport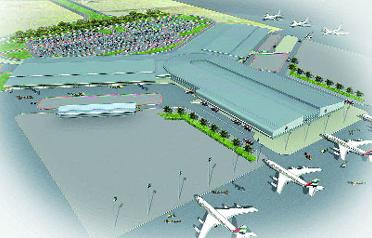 Dubai's new airport – Al Maktoum International – will now be open for business only in mid-2010, with its first passenger terminal opening one year after its planned launch of mid-2009, according to a top Dubai Airports executive.

Dubai Airports is yet to obtain an operating licence from the General Civil Aviation Authority (GCAA) in order to start operations, said Paul Griffiths, Chief Executive of Dubai Airports. "We were hoping to receive our licence from GCAA sometime this year. But it has got delayed and we do not see it happening now until mid-2010," he told Emirates Business.

GCAA's Director of Flight Safety and Security, Aws Al Khanjari, said: "A comprehensive airport development programme has been established to determine a realistic and sound plan to assist all airport stakeholders in achieving the levels of safety expected for the licensing of an international airport."

"At present no official opening date for Al Maktoum International has been communicated to the GCAA. Both parties are working hand in hand in steering a comprehensive development programme to ensure the prime project objectives of creating a premier class international airport are achieved," he added.

Besides this, there are more reasons for Dubai Airports to postpone the airport opening by another year. "It was always an aspiration that we would get everything in place by mid-2009 in order to open the new airport. But we still have to commission all equipment needed, hire the right staff, ready all the facilities and so on. We do not see it all being completed this year. So, we are aiming for a mid-2010 opening," Griffiths said.

Coming up in Jebel Ali's $33 billion (Dh121bn) Dubai World Central development, the 140 sq km airport is still in the process of putting together its various elements.

According to Griffiths, the only two things that are in place at Al-Maktoum International at present are "the first physical runway and the lighting".

"We have got to make sure everything is ready before we make the airport functional. For instance, we still have to complete work on the Air Traffic Control tower, ready our first passenger terminal and the access roads to the airport. And these would not possibly be complete by the end of this year," Griffiths said.

Dismissing rumours the delay is because of the ongoing global financial crisis, Griffiths said: "It has got nothing to do with the financial crisis. Sometimes there are very compelling reasons to wait and get all of it right. We want to provide the best customer service besides all the benefits. So, we decided to wait a little longer in order for all the facilities to be ready before we start."

Furthermore, Al Maktoum International's first passenger terminal will cater to all types of airlines – full-service as well as low-cost, with an aim of attracting up to nine million passengers, according to Griffiths. "There would be no such distinction… both will operate together in the first terminal," he said.
Follow Emirates 24|7 on Google News.