Maktoum attends LBS graduation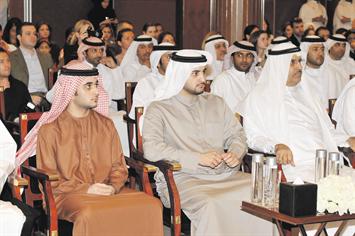 In the presence of Sheikh Maktoum, 78 students graduating from the programme were awarded the Dubai-London Executive MBA degrees. The recognition ceremony was also attended by Sheikh Saeed bin Mohammed bin Rashid Al Maktoum, Ahmed Humaid Al Tayer, Governor of DIFC, Professor Sir Andrew Likierman, Dean of London Business School, Professor Naufel Vilcassim who has been awarded Sheikh Mohammed bin Rashid Al Maktoum Professorship of Innovation, and Faculty Director in Dubai, and other faculty members.
LBS Dubai-London MBA Programme is delivered out of DIFC Centre of Excellence, a DIFC subsidiary. (Wam)
Follow Emirates 24|7 on Google News.
Sheikh Maktoum bin Mohammed bin Rashid Al Maktoum, Deputy Ruler of Dubai and President of the Dubai International Financial Centre (DIFC), yesterday attended the recognition ceremony for the second graduating class of London Business School's (LBS) Dubai-London Executive MBA Programme.