Maktoum stresses need for continuous education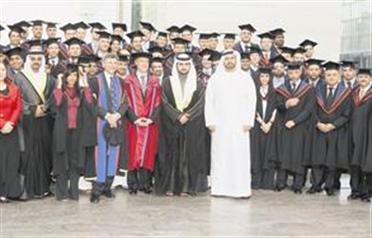 Sheikh Maktoum bin Mohammed bin Rashid Al Maktoum, Deputy Ruler of Dubai, yesterday attended the first graduation ceremony of London Business School's Dubai-London Executive MBA Programme at the Dubai International Financial Centre (DIFC).

In the presence of Sheikh Maktoum, 76 students, who are graduating from the programme, were awarded their MBA degrees.

Sheikh Maktoum said: "As the UAE strives to be a leading global nation, it is imperative to give the highest priority to the expansion of world-class educational opportunities. To keep pace with today's rapidly evolving economic world, continuous education is critical. Today's business leaders should never stop learning because that which is new today will be old tomorrow. I hope that for the students who are graduating today, a university degree like this will only be the start of a lifelong process of learning."

The event was also attended by Mohammed Al Gergawi, Minister of Cabinet Affairs; Dr Omar bin Sulaiman, Governor of DIFC and Vice-Chairman

of the UAE Central Bank; Guy Warrington, British Consul-General for Dubai and the Northern Emirates; other dignitaries and guests including corporate leaders as well as students' family members.
Follow Emirates 24|7 on Google News.