Memorial unveiled to war RAF bomber in Fujairah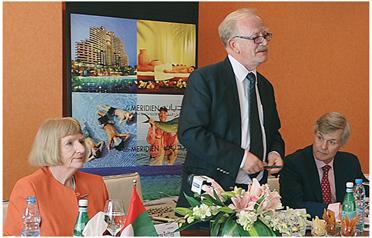 HH Sheikh Hamad bin Mohammed Al Sharqi, Ruler of Fujairah and Supreme Council member, said: "The Second World War was the deadliest military conflict the world has ever seen. Sergeant Donnelly and the crash are part of our history."
Besides June Botten, niece  of Sergeant Donnelly, British Ambassador Edward Oakden, RAF members, Fujairah Tourism and Archaeology Authority officials and others attended the ceremony.
Oakden noted the "excellent co-operation" between Britain and the UAE, which he said has continued since the days of the war. Abu Dhabi-based historian, Peter Hellyer who first discovered references to the crash and subsequently co-ordinated research and planning for the memorial, also spoke.
Born in Peru in 1911, Sergeant Donnelly joined the RAF in 1941. He was a member of a four-man crew flying the Wellington bomber from Britain to India. After a refuelling stop in Sharjah, the plane took off for Gwadar inPakistan and crossed the Hajar Mountains. Thirty  minutes later, an oil leakage in the engine and propeller damage caused the pilot to crash land. Donnelly died of his injuries.
Follow Emirates 24|7 on Google News.
A memorial stone was unveiled yesterday at Sayh Dhadnah in Fujairah, nearly 70 years after British Royal Air Force bomber, Sergeant William "Billy" Donnelly, died in a crash at the site. The crash took place on February 14, 1943.