Mena's largest $1bn space centre to be built in capital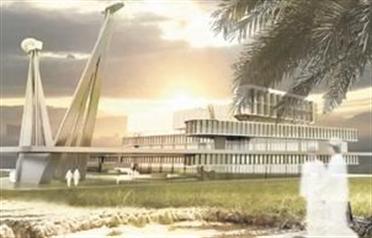 Abu Dhabi will have the Mena region's largest space centre developed with a cost of $1.03 billion (Dh3.7bn), it was announced at the ninth International Defence Exhibition and Conference.

The centre with its own four satellites will be fully operational in 2013. It will receive, analyse and utilise data from satellites. It will be a fully commercial facility marketing its images and data international market.

The Gulf Earth Observation Centre (4C Geoc) was announced under a three-way joint venture formed at Idex between US-based 4C Controls, Hydra Trading and Baynunah Aviation Service.

"The first phase of the project, the building with its direct ground receiving station, will be completed and operational within six months from now. The construction of the building and all the equipment and the entire process will cost $30 million," said Major General (retired) Khalid Abdullah Al Buainnain, Vice-President for Middle East Military and Defence Security at 4C Controls.

The satellites will be acquired under the company's Gulf Satellite Programme (GulfSar) and called GulfSar one, two, three and four.

He also said it will be first centre of its kind in the entire Middle East and North Africa region. "The project will be launched and managed on a long-term and multistage basis. With facilities ready within next six months, the centre will have its own first two satellites, costing $500m, orbiting the earth in 2012. The remaining two, also costing $500, will be launched the next year, 2013," he explained.

"We believe that having 4C's Gulf Earth Observation Centre located in Abu Dhabi will uniquely provide our region an access to a key technology, secure and timely data acquisition, processing, analysis and distribution, which was not available to our regional customers."

About the funds raised for the project, Dr Richardo Maggiora, 4C Controls Director and Chief Technology Officer, said the cost will be met by partners and raised with the centre services offered by getting images and data from other satellites.

"We are already negotiating the closing of shareholding structure," he added.
Follow Emirates 24|7 on Google News.