Millions minted on camel causeway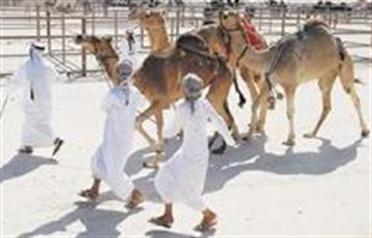 Million's Street – a three-kilometre stretch of unpaved road in the middle of the desert – has earned its name from the camel deals done on its sides.

The main street at the Al Dhafra Festival in Zayed City in Abu Dhabi is the most popular location not only for camel owners but also for international tourists. It is from this location that the world came to know about the mega deals done in camels in the past two years.

Thousands of camel owners from the UAE and other GCC countries flock annually to Zayed City, the gateway to the Empty Quarter, to participate in the core activity of the festival, known as "Mazayen", or camel beauty contest, where they parade their best camels to for 10 days before a special judges' committee, hoping to win one of the total of Dh42 million in prizes.

This year more than 1,200 camel owners registered for the event, with more than 28,000 camels participating in different rounds of the Asayel and Majaheem camels' category.

In order to improve the quality of their herds, camel owners head to Million's Street and set up temporary stables along its sides from where camel deals estimated at more than Dh200m have been made over the past editions of the festival.

In this year's festival, Hamdan bin Ghanim Al Falahi, an Emirati, bought a number of camels for more than Dh45m.

Parading camels on this street has become a phenomena. "Throughout the day, the street is busy and especially after sunset when camel owners show off their animals to draw the attention of buyers who may pay millions for a good animal," said Salim Al Mazroei, Director of the festival.

In the past two seasons, the street has seen Dh15m being paid for the famous camel Marokan the Dh10m for Mura'a.

Facilities and help centres are located on the street too; organisers and the Western Region municipality provide camel owners with water, wood and fodder in addition to a clinic, veterinary services, mosque and a 24-hour grocery.

Also along the sides of the street can be seen many tents selling traditional handcrafts and products related to camels, which vary from Dh50,000 to a few millions in price.

Abu Dhabi Authority for Culture and Heritage also aims to preserve the UAE's heritage through multiple activities.
Keep up with the latest business news from the region with the Emirates Business 24|7 daily newsletter. To subscribe to the newsletter, please click here.
Follow Emirates 24|7 on Google News.