Mohammed meets young leaders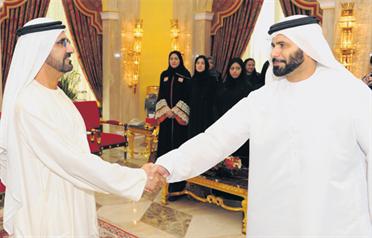 His Highness Sheikh Mohammed bin Rashid Al Maktoum, UAE Vice-President and Prime Minister and Ruler of Dubai, received heads of local departments and leaders of the second and third tiers at Zabeel Palace yesterday.
The meeting was attended by Dubai Crown Prince Sheikh Hamdan bin Mohammed bin Rashid Al Maktoum, Dubai Deputy Ruler Sheikh Maktoum bin Mohammed bin Rashid Al Maktoum and Chairman of Dubai Civil Aviation and Chief Executive of Emirates Group Sheikh Ahmed bin Saeed Al Maktoum.
Sheikh Mohamed welcomed the young leaders and commended their achievements over the past stage, saying that these achievements reflect the UAE youth's creative capabilities.
He added: "I meet you today to encourage and support you so that you can face the challenges of the next stage with self confidence and to further enhance our already strong will and belief in Allah and trust in our material and intellectual capabilities as well as our farfetched vision."
He directed and encouraged them to continue the journey they have started until its end regardless of the difficulties and challenges they may encounter.
Sheikh Mohammed said: "You have to work and learn from your mistakes – those who work make mistakes and those who do not work make no mistakes. I want you to work hard for your country even if you make mistakes; to make mistakes is better than not to work, as the work for the country is holy; no lagging or despair is accepted as there is no despair with work."
He further said he learns a new thing every day and that he is happy to acquire new experience and that knowledge accompanies one until he dies.
He directed departments to co-operate and work in the spirit of one team. Sheikh Mohammed later hosted a banquet for his guests.
Follow Emirates 24|7 on Google News.