Mohammed reviews project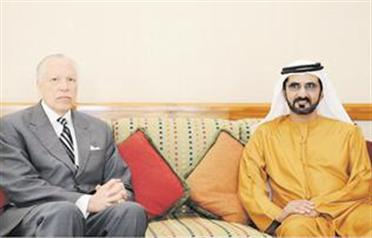 His Highness Sheikh Mohammed bin Rashid Al Maktoum, Vice-President and Prime Minister of the UAE and Ruler of Dubai has reviewed the content and objectives of an international educational research project launched by the Ministry of Education (MOE).

The project comes in line with government strategy to develop the school curriculum and improve education in the country.

At a meeting in Al Marmoun yesterday, Sheikh Mohammed discussed the scheme with Dr Gene Carter, Executive Director of the Association for Supervision and Curriculum Development (ASCD), a body tasked with overseeing and implementing the research project, in partnership with the MOE.

Sheikh Mohammed stressed the importance of advancing educational and scientific research amongst students – starting at the pre-elementary and elementary school stages – so that new generations will come to rely on research and modern methods in their studies and education.

Sheikh Mohammed also called on those involved in the project to focus on teaching, motivating and helping students to adapt to new educational methods, to help build a progressive society, based on knowledge, understanding and culture, and break away from a system based on memorisation.

He added that this will help create a promising future for upcoming generations. Sheikh Mohammed went on to say that since the formation of the Cabinet under his leadership, the government has prioritised education and human development, in line with the government's long term strategy.

He added that all concerned authorities must work cohesively to reach this national goal.

Minister of Education Dr. Hanif Hassan said that following Sheikh Mohammed's approval, the project would be the first of its kind in the region. He added that the project consists of various research units, including an early childhood development research unit and a teacher skills development research unit.

The project, he said, will help implement international standards in the education sector and foster new innovative teaching methods.
Follow Emirates 24|7 on Google News.