Mohammed urges more work on Emiratisation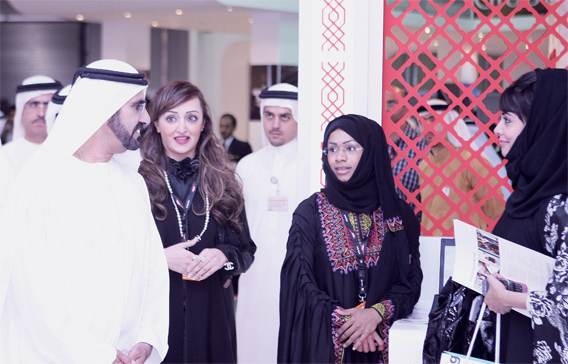 Offering employment opportunities to young job-seekers is the duty of the federal and local governments, said His Highness Sheikh Mohammed bin Rashid Al Maktoum, Vice-President and Prime Minister of the UAE and Ruler of Dubai, while touring the career fair in Dubai yesterday.
He stressed that the authorities concerned should co-ordinate with federal and local governments to absorb the legions of male and female graduates according to their specialisations and thus avert unemployment in a country that is enjoying prosperity and stability.
Sheikh Mohammed was briefed about job opportunities offered by more than 100 employers from the public and private sectors.
He said during a tour of the tenth annual Careers Show being held at the Dubai International Convention and Exhibition Centre, that development projects need the hands and energies of the country's generations in order to contribute to the sustainable development drive that will never stop until the target is reached and construction is completed.
Sheikh Mohammed directed government departments and entities to open their doors by recruiting UAE male and female graduates so that they can enter the labour market, gain experience and hone skills.
Meanwhile, Sheikh Hamdan bin Rashid Al Maktoum, Crown Prince and Deputy Ruler of Dubai and UAE Minister of Finance, toured Dubai Municipality's pavilion at the career fair. Sheikh Hamdan was briefed about the training and service programme provided by the human resources department at Dubai Municipality.
He stressed the importance of attracting different specialisations to join Dubai Municipality, especially lawyers and engineers. Sheikh Hamdan indicated the importance of appointing Emiratis who are holding secondary and preparatory school certificates in the administrative jobs at the civic body in order to encourage them to complete their studies.
Hussein Nasser Lootah, Director-General of Dubai Municipality, stressed the department's keenness to participate in the career fair to streamline its strategy of rehabilitating citizens and employing them in suitable positions.
He reiterated that Dubai Municipality's pavilion at the career show aimed at educating the youth and graduates about various vacant jobs available at the civic body through provision of counselling services to students about their future post-graduation studies so as to join the civic body as per the job requirements.
The Office of the Crown Prince of Dubai signed yesterday an MoU with the Knowledge and Human Development Authority of Dubai for training 100 citizens, men and women, on electronic skills. The Careers Show 2010, ending today, is organised by the Dubai World Trade Centre with The National Human Resource Development and Employment Authority, Emirates Nationals Development Programme, Higher Colleges of Technology, Zayed University and UAE University.
Follow Emirates 24|7 on Google News.