New rare fossils found in Al Gharbia area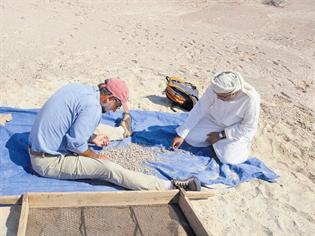 Crocodiles once ranged in Abu Dhabi's dry and sandy Western Region millions of years ago when a river flowed through it, a recent discovery of fossil remains has revealed.

The discovery, in the Al Gharbia (Western Region) of Abu Dhabi emirate, was announced by the emirate's Authority for Culture and Heritage (Adach). It came after recent archaeological expeditions to the area.

The fossils included two complete large skulls belonging to crocodiles that had inhabited the area some eight million years ago, when it was riverine and swampy. The findings came about due to a technical co-operation between the Department of Historic Environment at Adach and the Peabody Museum of Natural History at Yale University in the US

Mohammed Khalaf Al Mazrouei, Director-General of Adach, said the excavations took about three weeks of fieldwork from December 28 last year to January 16, and included a working group composed of nine members from the Department of Historic Environment, led by Dr Mark Beech.

The excavations took place in addition to the work of a team of fossil specialists that comprised Dr Faysal Bibi and Dr Matthew Schuster from the University of Poitiers in France, and Professor Andrew Hill of Yale University.

The team sought to gain a greater understanding of this ancient environment, where evidence of fossilised white ants has been discovered for the first time.

Mazrouei said the team is also working on a project to prepare a comprehensive map of fossils in Abu Dhabi. The majority of these sites are found along Al Gharbia.

All protection should be provided to the area in order to preserve these geological layers deposited from the late Miocene era, he said. They are the only examples of these layers to have kept original form in the whole of the Arabian Peninsula.

Meanwhile, Mohammed Amer Al Neyadi, Director of the Department of Historic Environment at Adach, said efforts were under way to preserve these sites and to safeguard the fossils from various threats. This was being done through the combined efforts of the Al Gharbia Municipality and the Urban Planning Council.

Neyadi said the discovery of the fossils was very important at the local, regional and global levels because they were the only examples of their kind in the region.

He added that a protective fencing around the site has been completed as part of Adach's strategy to preserve important archaeological areas in Abu Dhabi.

Dr Olga Otero from the University of Poitiers and Professor Brian Gratz from the Western University School of Health Sciences in the United States also participated in the pathbreaking study in Al Gharbia.
Keep up with the latest business news from the region with the Emirates Business 24|7 daily newsletter. To subscribe to the newsletter, please click here.
Follow Emirates 24|7 on Google News.