One dead, 32 injured in Abu Dhabi accidents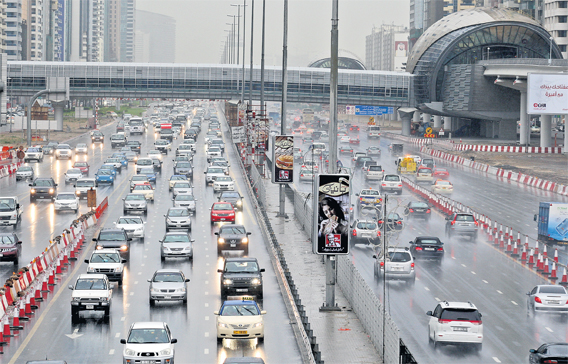 A woman died and 32 people were injured in road accidents in Abu Dhabi early yesterday morning as torrential rain caused treacherous driving conditions.
Abu Dhabi police said the four accidents, which all happened on remote roads, included multi-vehicle pile-ups and ranged in severity from minor to serious.
The woman, an Arab, died on the Abu Dhabi-Dubai Highway near Ajban.
"The accident was caused by high speed and a failure to maintain safe distance from other vehicles while visibility was poor because of the heavy rain," said Lt-Col Mohammed Ahmed Al Mazrouei, Head of the Highways Traffic Section at the Department of Traffic and Patrols.
"This resulted in the car turning over, killing the woman on the spot.
"In the four accidents 32 people suffered injuries ranging from minor to serious, including 15 women. Another accident involved a collision between two buses – one carrying 66 passengers and the other with 34 on board – that injured 12 people."
Al Mazrouei said this crash was also caused by excessive speed and the lack of adequate gap between buses.
Another accident on the Abu Dhabi-Dubai Highway involved a pile-up of six vehicles in which four people suffered moderate injuries. Three of the casualties were Pakistani citizens and the fourth, a woman, was an Arab national. He said the fourth accident involved a bus that turned over, injuring the 14 Indian women on board. The injured from all four crashes were taken to hospital.
Al Mazrouei urged motorists to be more cautious while driving in rain or fog and advised them to stop at petrol stations during spells of particularly severe weather and wait for conditions to improve. "In these conditions it is better to break your journey and stop at a safe place and wait for the weather to improve. Drivers should reduce their speed and stay a safe distance from the vehicle ahead."
Keep up with the latest business news from the region with the Emirates Business 24|7 daily newsletter. To subscribe to the newsletter, please click here.
Follow Emirates 24|7 on Google News.