President Khalifa opens Idex 2009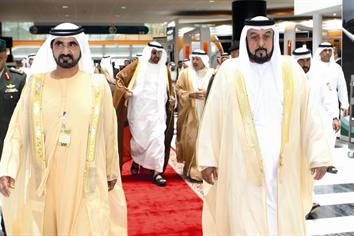 The President His Highness Sheikh Khalifa bin Zayed Al Nahyan, Ruler of Abu Dhabi and Supreme Commander of the UAE Armed Forces, yesterday opened the International Defence Exhibition and Conference (Idex 2009), in the presence of His Highness Sheikh Mohammed bin Rashid Al Maktoum, Vice-President and Prime Minister of UAE and Ruler of Dubai.

Sheikh Khalifa and Sheikh Mohammed, along with a large audience that packed the main stand of Abu Dhabi's international exhibition centre watched the inspiring opening ceremony to one of the world's largest military shows.

The inauguration began with a military parade before a giant open-air electronic screen, which showed pictures depicting the UAE's growth.

Sheikh Khalifa, Sheikh Mohammed and other Supreme Council members and Rulers of the emirates, as well as many other sheikhs, officials, diplomats and military delegates, were treated to, among other things, motorcycles performing acrobatic air stunts and displays by warplanes, tanks, armoured vehicles and warships.

As the expo got down to business later, the UAE announced that it would acquire an order for 224 AIM-120C-7 Advanced Medium Range Air-to-Air Missile (Amraam) fleet from Reytheon.

Abu Dhabi is also to have the region's first plant for manufacturing shotshell calibers for the local market and exports, an official at the Offset Programme Bureau said.
Follow Emirates 24|7 on Google News.