Prices of imported wood drop by 25%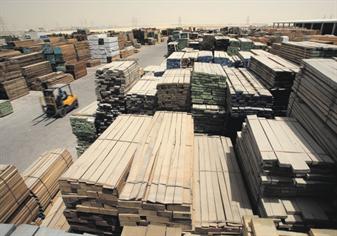 Prices of imported wood in the UAE have fallen by almost 25 per cent since July 2008 due to a drop in freight rates and a weak euro.

Prices of soft wood, used mainly in the construction industry reached its peak at $270 per cubic metre in July 2008, but have dropped below $200 in January 2009.

A drop in crude prices led to a decline in freight charges and helped slash prices of imported wood. Slowing global demand also helped push prices lower.

Naresh Merani, owner of Merani Trading, which supplies wood to major traders in the region told Emirates Business that prices have come down because of a fall in the value of euro coupled with lack of demand.

"Freight charges are also going down. Actual prices have seen a drastic drop. Several projects are being put on hold or cancelled. As a result, stocks with local traders have increased. Traders today have excessive stock, which will add to the pressure," said Merani.

The fall in freight charges is a result of declining oil prices and easy availability of containers, he added.

"Freight rates came down as oil prices fell and it had a cumulative effect on CNF (cost and freight) prices. This is also a supply and demand story. During the same time last year, it was difficult to hire containers whereas today there is not as much cargo. Containers are available in plenty."

In 2008, freight charges per cubic metre from China used to be about Dh30 – today it just costs Dh11.

"It has gone down by more than 50 per cent. If you look at the whole world as a market, the demand in the US and China has come down. European exports to the United States have dropped by 80 per cent. Demand in China too has gone down significantly," said Merani.

The construction industry in the country mainly uses whitewood, said BM Ashraf, Managing Director, Mohiudeen Wood LLC, a UAE-based timber merchant. The firm imports logs and processes them in the factory before supplying it to the industry, said Ashraf. "Prices have fallen from Dh1,000 per cubic metre to Dh850 per cbm. Most projects we are currently supplying to will continue, so the impact is not being felt as yet. However, we will have to wait and see for the second half of the year. That's when the impact of cancelled projects will become visible," said Ashraf.
According to Merani, prices touched their peak last July and August when the euro was trading at around 1.8 against the dollar. "Imports from euro-dominated countries have been affected. I was trading when euro was priced 1.8 for a dollar and today it is just priced at 1.3. It is not a healthy time for traders. Europe is one of the main exporters of wood to the region," said Merani.

According to him, this is the best time for developers and contractors to start building as the prices have fallen. Many of them are involved in renegotiations in an effort to benefit from the fall in prices. "But in a way people lose confidence when contracts are scrapped just to take advantage of the pricing," he said.

While soft wood is mostly used in the construction sector, hard wood is used in joineries for furniture. In soft wood there are varieties such as spruce, pine and fir.

Soft wood is mainly imported from South America, Germany, Romania, Austria and New Zealand. European soft wood prices move as per the euro-dollar relationship. "Pine is the most common soft wood that sells in this market," said Merani. Hardwood used mainly for windows, doors and furniture is imported from Indonesia, Malaysia, Africa, Europe, the US and South America.

According to Ashraf, building material suppliers are in a hurry trying to liquidate their cash. "We have not been affected much as timber prices have not been affected like steel and other materials. Prices have remained constant at the port of loading for almost a decade. The difference is mainly due to freight rates," said Ashraf.

"Since the 1990s, pine from New Zealand has always been $30 per cubic metre. It has been the freight charges that has added to the cost. Freight was about $35 in 1994-1995.

"In 2008, when oil prices reached its peak, pine imports along with freight charges went up to $155 a cubic metre. Now with the drop in oil prices, it has reached $90 – the booking price for logs," he added.

Mohiudeen Wood's business has been growing at around 20 per cent every year, said Ashraf.

"We supply big volumes of wood to the oil field and marine industry. During the first six months of 2009, we expect to see a similar growth.

"Even after that I don't think there would be a big dip in growth.

"Most projects that are ongoing will continue for another two years. The only difference will be in prices. It could fall further. But then our buying price will also decline," he added.
Follow Emirates 24|7 on Google News.