Rice prices fall in UAE as India cuts floor rate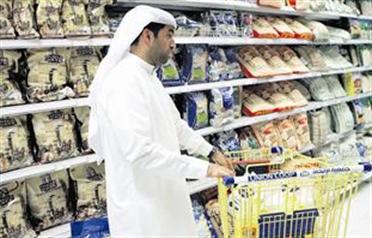 The price of basmati and non-basmati rice has plunged in the UAE by 35 per cent – and traders expect further falls as the Indian Government is lowering the minimum price it set for basmati exports.

"The price of super basmati has come down by $700 (Dh2,570) per tonne from $2,000 to $1,300," SG Vaseem, Executive Director of dealer Whitegold Rice, told Emirates Business. "The price of a tonne of non-basmati has come down from $900 to $580.

"Local customers and retailers are asking for cheaper rice; to mix super basmati with cheaper varieties of basmati to suit the market situation. Due to the economic crisis many customers and restaurants are switching over from super quality basmati to cheaper varieties."

Emke Group is the main distributor of Whitegold Rice in the UAE.

India set the minimum price for basmati at $1,200 per tonne and banned exports of non-basmati last April, but the basmati price restriction has now been cut to $1,100. The original measures were intended to curb inflation by ensuring that cheaper rice was available in the home market.

Vaseem said the price could fall further because India was planning to pay a subsidy of $200 per tonne to Indian rice exporters so they could match the lower price of Pakistani rice.

"Suppliers from Pakistan are mixing super basmati with cheaper varieties in consultation with local dealers," he added. "Traders are stuck with huge stocks of basmati purchased when the market price was $1,800 per tonne. Suddenly the price has come and many traders are showing a loss.

"There are traders who have 100 containers of basmati rice in warehouses because consumers are opting for cheaper rice."

However, Vaseem said, demand for non-basmati was falling because many labour camps had stopped providing free food to cut costs.

He said most of the people who were leaving the country because of the economic slowdown were construction workers, and the industry was the main user of non-basmati.

Deepak Tidwani of Deepak said: "When the Pakistani basmati crop started arriving last October the price was higher than the corresponding price in 2007 due to increased buying from international buyers, especially those in Iran.

"But now the price has come down, mainly due to the depreciation of the Pakistani currency by 45 per cent compared with the Indian currency's fall of just 15 per cent.

"The Indian government has announced the reduction of the $1,200 minimum export price to $1,100."

India has been under pressure to reduce the figure from rice exporters, who currently owe huge amounts of money to paddy farmers. Indian rice dealers in the UAE said the GCC market, which was once dominated by India, had been taken over by Thailand, Vietnam and Pakistan.
Follow Emirates 24|7 on Google News.