Sand cats scratch out success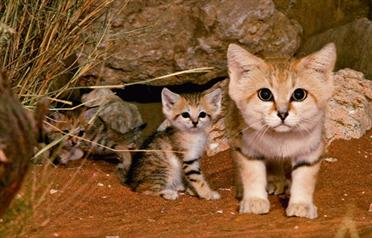 Conservation efforts at the Al Ain Wildlife Park and Resort have paid rich dividends with the birth of two female Sand cats following an in-vitro fertilisation and embryo transfer procedure.
This is the first time that a Sand cat has given birth through this procedure.
Kirk Duthler, head, branding and communication department, AWPR, told Emirates Business: "The number of these cats is declining due to loss of habitat and that is why they have been classified as threatened by the International Union for Conservation of Nature.
"The major factors that are threatening their habitat is the rapid urbanisation and the encroachments in the desert due to that. Also, the use of the desert for quad biking, dune bashing, desert safaris etc is leading to the destruction of their habitat and source of food. The Sand cats eat things such as desert hare and gerbils and their number is also declining due to the destruction of habitat. Hence the Sand cat is finding it more and more difficult to survive in the wild. Plus some people like to shoot them for the fun of it and also because they are considered as vermin by farmers."
The success of the programme marks an important step forward in the efforts to conserve this threatened cat species and other arid land carnivores such as the Arabian leopard.
Duthler said: "This is a pilot project to see if this technology, which is common in wildlife parks the world over, would work for the animal species in the deserts of the UAE too. The idea is to test it, refine it and then begin trials for other desert animals, such as the Arabian leopard, that are also being threatened by rapid urbanisation here."
In October, AWPR initiated Project Sand Cat in partnership with the US-based University of Illinois and the Cincinnati Zoo and Botanical Garden. Fresh sperm and eggs collected from male and female Sand cats were fertilised in an incubator to produce 50 embryos. Twenty one of those embryos were transferred into four host cats, one of which recorded a successful pregnancy. The remaining 29 embryos were frozen and transported to the Cincinnati Zoo for similar trials.
AWPR is home to almost 20 per cent of the world's captive Sand cats.
Keep up with the latest business news from the region with the Emirates Business 24|7 daily newsletter. To subscribe to the newsletter, please click here.
Follow Emirates 24|7 on Google News.