SPECIAL: Dubai's tourism sector bounces back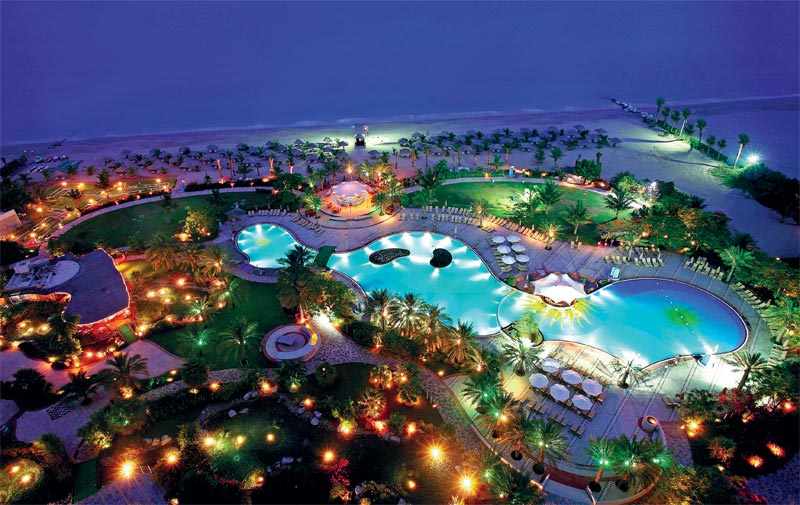 As they say, if things have gone so bad they can only get better, and rightly so. The hospitality sector, after having taken a strong hit in the global financial slump, is on the recovery path, according to industry experts.
Dubai is a strong example of that. The emirate's hotels, which saw room rates drop to almost 60 per cent over the last year, are expected to see a pick-up in rates by end-2011, according to hospitality consulting firm CBRE Hotels. Dubai had the 16th most expensive room rates in the world last year, according to consultancy Hogg Robinson Group.
Latest numbers show that Dubai hotels recorded the highest RevPAR (revenue per available room) – an industry benchmark – in the world as of March 2010, according to Deloitte analysis of selected STR Global hotel performance data for the Middle East.
The emirate's RevPAR during this period was $199.24 (Dh731.6), comparable to $200.82 during the corresponding period in 2009. It further said the emirate witnessed occupancy levels of 79 per cent during the same period, compared to 71.6 per cent in the corresponding period in 2009, reflecting a growth of 10.4 per cent.
Clearly, the positive numbers bucked the overall downward trend for the Middle East as a whole. According to recent STR Global data there are 60,000 hotel rooms in Dubai, with 30,000 more in the pipeline.
Industry body STR Global recently said Middle East hotels posted the highest occupancy, room rates and RevPAR in the world last year despite it being one of the toughest years.
Alex Kyriakidis, Global Managing Partner of Tourism Hospitality and Leisure at Deloitte, said although the global economic crisis exacerbated the decline last year, hotels in Dubai and across the UAE achieved some of the "strongest average room rates and RevPAR" globally.
According to Khalid A bin Sulayem, Director-General, Dubai Department of Tourism and Commerce Marketing, tourism in Dubai has grown in the first quarter of this year. He said the number of guests at hotels and short-stay apartments reached 2,095,883 in the first quarter against 1,995,018 for the same period last year, registering a rise of five per cent.
All these factors have once again managed to lure some of the biggest names in the hotel industry to make a comeback at this year's Arabian Travel Market, which begins in Dubai today and runs until May 7.
DTCM positions Dubai as world's top tourist destination
The fast emergence of Dubai on the world tourism map and its spectacular performance is undoubtedly the result of aggressive global marketing and promotional agenda being pursued by the Department of Tourism and Commerce Marketing (DTCM).
The department, in co-operation and co-ordination with public and private sector organisations, has been successfully developing the appeal of the destination that offers tourists the opportunity to explore traditional Arabian hospitality along with a contemporary lifestyle.
Continuing its aggressive marketing and promotional drive in 2010, DTCM will be highlighting the strengths and attractions of the emirate's vibrant tourism industry in 36 overseas travel exhibitions and hosting exclusive road shows and workshops in 10 countries.
The DTCM Director-General Khalid A bin Sulayem said: "Dubai's tourism product offering has considerably expanded last year and more changes are expected this year. Last year, the global tourism industry too underwent rapid changes due to the global economic downturn, requiring fast-rising destinations like Dubai to adopt strategies to remain at the cutting-edge of the highly-competitive business."
Further highlighting the department's vision, Bin Sulayem said it is "to position Dubai as the leading tourism destination and commercial hub in the world" and that DTCM's mission is "to strengthen the Dubai economy through the development of sustainable tourism".
PROMOTING BRAND DUBAIi
Clearly, the growth achieved by the Dubai tourism industry and huge inflow of foreign investments in different economic segments reflect the department's constant efforts to enhance the image of and awareness about Dubai.
The department has come a long way since it was established in January 1997, replacing the Dubai Commerce and Tourism Promotion Board (DCTPB) that existed for nine years.
Dubai embarked on the long journey to achieve the long-term goals of the emirate in a big way and established six overseas offices within seven months of the DCTPB's inception in 1989.
The DTCM is the principal authority for planning, supervision and development of tourism in Dubai. It currently oversees the licensing of hotels, hotel apartments, tour operators and tour guides.
The department also manages heritage sites and visitors' information bureaus and the region's first and only dedicated cruise terminal, which has been expanded further to accommodate four cruise ships simultaneously from the 3,450-square-metre facility from February 2010.
According to the DTCM data, hotels and hotel apartments in the emirate played host to 7.58 million guests in 2009, up by one per cent compared with the previous year's figures, reflecting the unfaltering global interest in Dubai as a year-round business and leisure destination.
INCREASE IN HOTELS
Dubai also witnessed a 10 per cent increase in the number of hotels and hotel apartments, which totalled 540 last year, compared with 493 the previous year. Similarly, the total number of hotel rooms and hotel flats went up by 22 per cent to reach 61,487 units in 2009 compared with 50,457 units in 2008.
In 2009, hotels guests numbered 6,105,813, while it was 1,477,266 guests for the hotel apartments. The total number of hotels now stands at 352, while 188 is the total number of hotel apartments. The hotel room inventory went up to 43,419 in 2009 compared with 37,261 in the previous year. Total hotel apartment flats stand at 18,068, up from 13,196 in the previous year.
The top three source markets for Dubai – the UK, India and Iran, meanwhile, accounted for 714,877, 529,536 and 476,120 guests respectively in 2009. Saudi Arabia stood at fourth position with 414,482 guests, while the US and German guests numbered 395,390 and 283,319, respectively. Among the top 20 source markets were Pakistan, Russia, Kuwait, Oman, Australia, France, Egypt, Italy, the Philippines, Canada, China, Qatar, Lebanon and Jordan, according to DTCM.
According to the latest global performance report released by the London-based STR Global, Dubai secured second position among the 15 markets reviewed in the average room rate category between January and October with $229 (Dh841). Paris topped the list with Tokyo, New York, Rome and London trailing behind Dubai.
As for the RevPAR, Dubai bagged third position globally with $155 during January-October 2009, next only to Paris and New York. Tokyo, London, Rome and Hong Kong were next to Dubai on the list.
MARKETING INITIATIVES
The DTCM's promotions and marketing initiatives, taken up in co-operation with hoteliers and tourism industry professionals have contributed enormously in achieving high growth and keeping the tourism economy robust.
"We remain positive and proactive and are moving forward with confidence and positive approach as Dubai gains solid ground as a year-round business and leisure destination," said Bin Sulayem. Long before the global financial crisis, the department created a task force with experts and representatives of Dubai tourism industry players, to review market trends and take appropriate measures.
Other promotional moves by the DTCM include its having conducted the "Keep Discovering Dubai" familiarisation programme in co-operation with Emirates airline, DMCs and hotels, for about 2,000 tour operators, travel agents and media representatives from about 60 countries over a three- month period in 2009.
The DTCM further launched "Kids Go Free" promotion from July to September 2009 as part of its summer season promotions to boost the number of visitors to the emirate.
In 2010, however, this promotion's duration will be five months – from May to September – and the number of hotel establishments participating in the drive has also increased, DTCM said.
RISING FOCUS ON MICE SECTOR
The department's aggressive marketing agenda for this year is also focused on the high yielding meetings, incentives, conferences and exhibitions (Mice) sector, for which the Dubai Convention Bureau (DCB) was launched in March 2003.
In order to strengthen its competitive edge in targeting the meetings market, DCB has formalised the Dubai Bid Alliance (DBA) to offer a comprehensive package of necessary products and partners to prospective congress event organisers.
The convention bureau said the number of leads it had generated for Dubai stakeholders is larger than before and will continue to grow. During January-November 2009, the DCB generated 62 congress leads with an estimated economic impact of Dh362 million for Dubai. Currently, it has 16 active large congress bids with potential attendance totalling more than 38,000 delegates.
In 2010, the DCB team is expected to be working with all of DTCM's partners in strengthening business tourism as a major foundation in the tourism sector. Finally, the DTCM is to present the first Dubai Green Tourism Awards launched last year, in the first half of 2010. The initiative publicly recognises DTCM's local stakeholders for their environmental strategies and performance.
Expanding tourism portfolio to get grand stand
The 17th edition of the Arabian Travel Market, or the ATM, will see the Department of Tourism and Commerce Marketing (DTCM) hosting 112 buyers this year (as against 105 last year), at its stand at the exhibition measuring 1,225 square metres (compared to 1,152 sq mt) housing 87 booths and 114 co-participants.
The DTCM said it would be making a spectacular showing of Dubai's expanding tourism industry portfolio at the show. The Dubai Stand (UAE 2300) is located in Hall 3 of DICEC.
While the first three days of the show will be exclusively for the travel and tourism industry professionals, the concluding day – May 7 (Friday), has been reserved for general public.
The world's third-biggest travel and tourism fair is being held under the patronage of His Highness Sheikh Mohammed bin Rashid Al Maktoum, Vice-President and Prime Minister of UAE and Ruler of Dubai, and the auspices of the DTCM.
The DTCM Director Overseas Promotions and Inward Missions, Saleh Mohammed Al Geziry, said the number of booths and corner areas of the stand have also been increased – from 78 to 87 and from four to seven, respectively.
The government entities participating at the Dubai stand are Roads and Transport Authority (RTA), Dubai Summer Surprises (DSS) and General Directorate of Residency and Foreigners' Affairs (GDRFA).
During the ATM 2010, presentations will be carried out by GDRFA, RTA and Dubai Convention Bureau (DCB), which will be open to the Dubai stand co-participants, DTCM said.
It added that representatives from each of the DTCM's 18 Overseas Representation Offices will also be on hand to support the Dubai co-participants on the matters pertaining to their respective countries.
Tourist spend in UAE to increase 18%
The tourism spend in the UAE is set to increase to Dh32.4 billion by 2014, up 18 per cent from 2009's spend of Dh27.5bn, as predicted by Euromonitor International, the global consumer market analyst firm.
Its data further reveals that while the spend will increase by Dh4.9bn, the overall visitor numbers will grow by more than 19 per cent by 2014. Most tourists are said to be coming from markets such as Saudi Arabia, India and the UK.
In terms of UAE visitor numbers, meanwhile, the UK will make up the largest number, increasing from a little more than one million in 2009 to 1.2 million by 2014, according to the Euromonitor report.
Caroline Bremner, Global Travel and Tourism Manager, Euromonitor International, who is due to unveil the full report during the ATM 2010, said: "Faced with a global economic crisis of epic proportions, the Middle East has suffered a slowdown in travel and tourism demand from key source markets.
"With continued investment in infrastructure, and strategic vision in place, the region continues to offer growth opportunities. However, a greater commitment to diversification would ensure the region can meet its full potential."
What top industry officials have to say about ATM 2010
The Arabian Travel Market is a very important event for the hotel industry in this part of the world, and certainly for the Jumeirah Group. I am very pleased that the event has managed to grow year on year. It is very encouraging and important for us
Gerald Lawless, Executive Chairman, Jumeirah Group
For Starwood, ATM gives us the opportunity to meet with our existing partners and to network with travel professionals from around the world to see how we can work together and create new business opportunities that benefit all parties
Guido De Wilde, VP, Regional Director,Starwood Hotels & Resorts Middle East
It is one of the major travel shows and we have been extremely pleased with the outcome of previous years. Traditionally, ATM has provided a good opportunity and focus for securing business across the summer period and we anticipate that this will be the case again this year
Marko Hytonen, Area Vice-President,Rezidor Hotel Group
This year's event is as important as ever. We face a new reality on pricing but the Middle East has a fantastic product to offer and we must work together to drive market share in the region. I see some business deals taking place during this show
Darroch Crawford, Managing Director,Premier Inn Middle East
The ATM provides us with a great sales opportunity. It is a forum to showcase our achievements like new openings, innovative products and promotions, as well as strengthen our partnerships. The Middle East is leading in recovery of the travel and tourism sector
Julien Bonafous, Director of International Sales, Hilton Worldwide, UAE, Bahrain, Kuwait, Qatar and Oman
We are delighted to participate in ATM for the second year in a row. This year we can showcase the success we have achieved in our first operational year and our near-future plans to the thousands of ATM visitors
Abdulsalam Al Bahar, Chairman & MD, Wataniya Airways
ATM has an established audience already and we are still positive on business opportunities from this exhibition. We certainly hope to bring our products and services closer to our customers and continue to get good leads out of our exposure during this year's show
Martin Massüger, Director, Head of Sales,
Middle East and Africa, SWISS
Arabian Travel Market is a one-stop-shop for the world of travel and tourism. This year there will be a heavy focus on recovery but compared to the last couple of years we will be looking to positive growth rather than how to cope and ride out the downturn
Mark Walsh, Group Exhibition Director, Reed Travel Exhibitions (ATM organisers)
The travel and tourism industry in the region has bounced back after the slowdown and we expect this year's ATM to be a success. ATM is an excellent platform to network with the industry leaders, strengthen relationships and establish new business contacts
Tarique Khatri, Vice-President - Business Development, Cleartrip
With the demogra-phics and business opportunities that the Middle East offers, ATM serves as an important event for the travel and tourism industry. For sure, we are looking at closing and announcing new business agreements in addition to generating new leads from the expo
Antoine Medawar, Vice-President, Amadeus Mena
Positive trends already visible in tourism sector
With the belief that the worst is over for the hospitality sector, Marc Dardenne, Chief Executive Officer, Emaar Hospitality Group and Emaar Hotels & Resorts, says Dubai is well on its way to recovery.
How do you think this year's ATM will perform... given the slowdown in the travel/tourism trade?
The Arabian Travel Market is an important event in the region's tourism and hospitality calendar. We believe that the worst is over for the global tourism business and we are already witnessing positive trends – both in terms of travel statistics and occupancy levels.
Dubai is now a preferred tourist destination for several new and emerging markets in the Mena region, the Indian Subcontinent, China, and Europe. The expansion of regional airlines, including Emirates, to new destinations is another catalyst for the tourism and hospitality sectors. We are confident that ATM 2010 will have a robust turnout, both in the number of visitors and participants.
Do you see major business deals taking place during the ATM ?
The Arabian Travel Market is a premier event that the hospitality and travel industries await for key announcements and business deals. We expect the same momentum this year also.
Do you expect to sign any business deals at this year's ATM?
As the hospitality provider of Emaar, we complement the company's strategy of developing integrated lifestyle developments.
Emaar Hospitality Group will partner in Emaar's hospitality development in all its key markets. We remain open to growth opportunities that will potentially be showcased at ATM 2010.
What would the ATM mean for your sector this year?
The Arabian Travel Market will bring together leisure and hospitality organisations from around the world. This event gives everyone in the industry the opportunity to network, learn about new trends and plan for the future.
What is the impact of the global crisis on the travel sector? When do you see a recovery taking place?
Like all global economies, the Gulf was also impacted by the challenges of the economic crisis. Tourism and hospitality – two of the main drivers of the economy – naturally faced unprecedented challenges. However, Dubai's hospitality sector recorded a promising year in 2009. In fact, the industry consolidated its experience to better its product offerings and enhance service standards.
The overall indicators were also robust with the Dubai International Airport welcoming more than 40 million visitors last year. Already the trends of a positive revival are evident. According to a recent report by Euromonitor International, tourism spend in the UAE is set to increase by 18 per cent from Dh27.5 billion in 2009 to Dh32.4 billion by 2014 and visitor numbers are expected to grow by 19 per cent.
What are your views on the performance of the Middle East hospitality sector in 2009? How do you project 2010 to turn out for the region's travel trade?
With tourist arrivals from Europe, the GCC and Indian Subcontinent, and corporate travel increasing, the hospitality sector is expected to be positive this year.
The Address Hotels + Resorts recorded high occupancy levels, and we are looking at positive growth through 2010. The population of Dubai grew 7.8 per cent to 1.7 million last year and passenger traffic at Dubai airport crossed 40 million – factors are indicative of the confidence in the sector.
The World Travel and Tourism Council estimates that tourism in the Gulf is set to expand considerably at an annualised average growth rate of 5.2 per cent during 2010-2012.(Shweta Jain)
Around the world in 30 minutes with Emirates
Emirates Group will once again this year make its presence felt at the Arabian Travel Market in a strong way at its rotating Emirates Globe stand. At 9.5 metres high and with a circumference of 65 metres, it is poised to be a star attraction at the show.
Visitors to the stand will have the opportunity to sample the industry-leading First Class Suites onboard Emirates' 777-200LR, 777-300ER and A380 aircraft in a specially recreated cabin area, while the stand will also take guests around the world in 30 minutes as the entire three-storey structure slowly rotates a full 360 degrees.
As Emirates, the official airline of the 2010 Arabian Travel Market (ATM), marks 17 years as a loyal supporter of ATM, the colossal structure has been rejuvenated with some exciting new features for 2010 – a year in which the airline has already confirmed the addition of six new routes to its network of more than 100 destinations.
Emirates said its fleet of 146 aircraft is expanding almost monthly, with the ongoing delivery of $49 billion (Dh179.83bn) of aircraft on order, while its network is growing at a similar pace, with Prague (July 1), Madrid (August 1) and Dakar (September 1) following the May 1 launch to Amsterdam, which came just over a month after the airline's inaugural flight to Tokyo.
Richard Vaughan, Emirates' Divisional Senior Vice-President, Commercial Operations Worldwide, said: "Emirates has emerged from a challenging period a leaner and stronger operation and as we focus on expanding our network with new routes, we see ATM as a tremendous opportunity to raise awareness of these destinations. Emirates is committed to the consolidation of Dubai's status as a world-class tourist destination and business hub, and as the largest aviation and travel services player in the region, we are proud to be playing a part in the ongoing success of ATM."
Showcasing some of the Emirates Group's most exciting new developments, the Emirates Globe will include three zones. One is devoted to Al Maha Desert Resort & Spa while another to its sister conservation-based destination, the recently opened Wolgan Valley Resort & Spa in Australia, which is also managed by Emirates Hotels & Resorts. The third area will focus on Emirates airline's products and services.
The Emirates Globe will also house private business meetings.
Dubai sails ahead with cruise tourism
Having established a strong foothold in cruise tourism in a short span of time, Dubai is today sailing at a high speed with its new Cruise Terminal on board to become the Middle East's ultimate cruise destination.
"Cruise tourism plays a crucial role in the overall growth and development of the tourism industry in the emirate. We realised its importance long ago and created the infrastructure and services that were needed to tap its potential. The new terminal will meet the increase demand that has been recorded in cruise tourists to Dubai," said Department of Tourism and Commerce Marketing (DTCM) Director-General Khalid A bin Sulayem.
HIGH GROWTH AHEAD
In 2010, Dubai is expected to host 120 ships at its new Cruise Terminal, which was launched earlier this year, with more than 383,000 passengers, according to the DTCM. Last year, meanwhile, saw 87 ships and 261,000 passengers pass through Dubai's Port Rashid Terminal.
It thus comes as no surprise that Dubai's cruise tourism market is estimated to grow 77 per cent by 2015, as per the DTCM's estimates. As Hamad Mohamed bin Mejren, Executive Director, Business Tourism, DTCM, recently told Emirates Business: "By 2015, we are estimating 195 cruise calls or 575,000 passengers to head to our shores.
"To achieve this growth, we have invested in our infrastructure by building a state-of-the-art cruise terminal. Alongside, we are also working closely with Abu Dhabi, Fujairah, Muscat and Bahrain to offer better port facilities, which will ultimately draw more ships and more tourists to this region."
He said since the launch of the new Dubai Cruise Terminal in February 2010, the DTCM expects a good 30 per cent growth in business compared to last year.
Meanwhile, Costa Cruises alone carried 146,000 passengers to Dubai in the 2009-10 season, and in 2010-11 the number should reach 150,000, according to Pier Luigi Foschi, CEO and Chairman of Costa Cruises. He told this newspaper in a recent interview: "With our four-year-partnership with DTCM, we are boosting our presence in the Gulf by bringing more ships to Dubai. We expect a 40 per cent increase of our guests cruising to Dubai in 2010, with an estimated economic impact of €14 million (Dh68.82m) for the city."
Dubai's position as an up-and-coming cruise destination was reinforced at the World Travel Awards in May last year when Port Rashid Cruise Terminal won the award for Middle East's Leading Cruise Port 2009. Dubai Cruise Terminal is said to be the only cruise terminal in the world operated by a government department of tourism, which means it can provide extra attention to every visitor and enhance the experience including certified tour guides and a swift entry system with no visa issues for visitors, DTCM said.
GLOBAL CRUISE LINERS
With its growing cruise business, Dubai has been successful in attracting a number of esteemed global cruise liners, including the likes of Costa Cruises, Royal Caribbean International, Aida Cruises and Sea Cloud Cruise liners.
Laying focus on the emirate's cruise tourism expansion plans, bin Mejren said Dubai has successfully drawn a record number of passengers from Germany, Britain and Italy.
The DTCM's long-term strategy, however, includes targeting emerging markets such as China, India and Brazil. As bin Mejren puts it: "The idea now is to expand on that base and target emerging markets such as China, India and South America, specifically Brazil. It is important to focus on those destinations that have daily flight connections with Dubai, to facilitate the tourists."
While the Hamburg, Germany-based Sea Cloud Cruise liners is close to setting sail for Dubai shores, Italy's Costa Cruises recently set up a regional office in Dubai with an aim of targeting Dubai's growing cruise tourism market.
Florida-based Royal Caribbean International (RCI), too, is currently weighing the possibility of setting up a hub in the emirate. RCI also recently revealed plans to set up a Dubai-Mumbai cruise route next year, as the cruise liner docked the ship, Brilliance of the Seas, in Dubai in January this year.
In addition, Royal Caribbean International announced a joint initiative with entertainment complex Dubailand, a mixed-use theme park, due to begin in time for Brilliance of the Seas' arrival in Dubai. Under the agreement, both parties will work together on strategic marketing and promotional activities to further boost the cruise industry's presence in Dubai.
In a recent survey, approximately 80 per cent of the cruise passengers in Dubai revealed they would extend their visit to the emirate during their next visit and 95 per cent said they would recommend others to visit Dubai to enjoy its all-appealing facilities, pristine beaches and unparalleled shopping options.
Located at the crossroads between east and west, Dubai has the location and the facilities to match; offering the epitome of luxury in a holiday, which truly offers something for everyone.
Follow Emirates 24|7 on Google News.