Strict lending policy hits car sales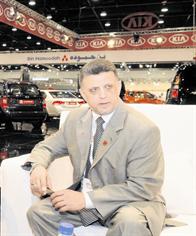 Securing an auto loan in the UAE remains tight as banks continue to implement a strict lending policy, Emirates Business has learned.

"Banks are still not relaxing their lending policies, at the same time we wonder if these banks have any target to achieve this year," said SK Ahmad, Marketing and Business Development Manager at Al Majid Motors Co, sole distributor of Kia Motors.

"There's no particular sign at the moment that banks are going to start lending," said Hugh Dickerson, General Manager of Sales and Marketing at Al Futtaim Motors – operator of Toyota, Lexus, Hino and BT franchises. "I hope they do relax their policies and we will do everything to ensure that they relax their lending criteria."

Wissam Khalil, Brand Manager for Porsche Centre Abu Dhabi, said: "Banks are still not flexible with auto loans due to the shortage of funds and a slowdown."

The tight lending combined with an economic slowdown has caused a drop in car sales.

Dickerson said. "In November we were still up year on year, but in November we have slowed down. It's because of how banks are lending to our customers. Financing has become difficult, which has affected us and other retail sectors as well."

This dilemma persists despite the UAE Central Bank's Dh50 billion emergency credit fund, the Federal Government's Dh70bn lending facility as well as the UAE Government's blanket guarantee on deposits.

Imad Awad, Director and Head of Equities at Emirates NBD Capital said: "It will be sometime before things get back to normal because everyone is waiting for the other bank – it's a waiting game now."

While a few have been considering some schemes to help with financing, the best that car dealers can do at the moment is to continue convince banks to relax their policies. "We are in talks with some of the big national banks," Khalil said.

Dickerson said: "The banks are keen to continue lending to Toyota and Lexus customers and we are working closely with them to keep their lending criteria as competitive as possible."

Meanwhile, despite the liquidity crisis, it has not been a doom and gloom situation in motor sales.

"Despite the worldwide economic crisis we are optimistic about another successful year for Porsche in Abu Dhabi," Khalil said.

"We are not very pessimistic, but at the same time we don't want to live an un-reality," Ahmad said. "There is some uncertainty in the market but also there are some opportunities."

Dickerson said: "We are set the weather the economic crisis storm."
Follow Emirates 24|7 on Google News.