'Tobacco law to protect citizens and residents'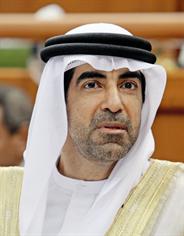 The legislation on tobacco and its by-products will protect UAE citizens and residents, said Health Minister Dr Hanif Hassan yesterday.

Earlier in the day, the President His Highness Sheikh Khalifa bin Zayed Al Nahyan issued Federal Law No15 of 2009 banning import of tobacco and its by-products unless specific standard requirements accredited in the UAE are met.

Commenting on the law, Dr Hassan said: "The legislation was issued within the context of measures taken by the wise leadership of Sheikh Khalifa and the Federal Government under the supervision of His Highness Sheikh Mohammed bin Rashid Al Maktoum, Vice-President and Prime Minister of the UAE and Ruler of Dubai."

"The law will protect UAE citizens and residents, enhance public health, and combat diseases and harmful habits in the society including the lethal smoking menace which leads, according to the latest World Health Organisation report, to the death of more than five million people every year," said Dr Hassan.

The minister said the law aims to block the way before companies or individuals who are trying to seduce population, notably the young generation, into the circle of smoking.

He added that the ministry of health would conduct a massive nationwide campaign to educate members of the public about the health hazards of smoking. The ministry will join forces with other federal and local concerned authorities to enforce the law in the best way.

The law prohibits selling of tobacco products to those less than 18 years old, bans cultivation of tobacco and import of tobacco-look-like sweet and toys and other similar products.

"The law will spare non-smokers the effects of passive smoking and the ensuing disturbance," he said.

The law empowers the court to confiscate advertising materials and even close down the firm if found breaching the law.

"The law demonstrates the UAE commitment to the WHO Framework Convention on Tobacco Control which the UAE acceded to in 2005," said Dr Hassan.

"The law protects the present and future generations from the devastating health, social, environmental and economic consequences generated from smoking tobacco," he added.

Highlighting some articles of the law, the minister said the law bans smoking in offices, places of worship, educational, health and sports facilities. However, he indicated that a permit may be obtained from the competent authority to designate smoking areas at indoor places under specific rules.

The minister stressed the need of co-operation from the community to eradicate the smoking menace.
Keep up with the latest business news from the region with the Emirates Business 24|7 daily newsletter. To subscribe to the newsletter, please click here.
Follow Emirates 24|7 on Google News.