UAE defence spending tops $4.6bn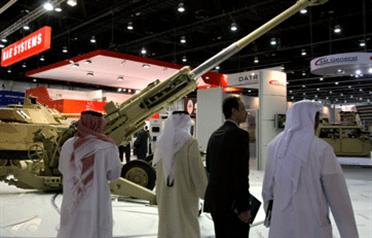 The United Arab Emirates on Wednesday continued its buying spree at the country's biennial Idex defence show, lifting its orders to a record $4.6 billion despite the global credit crunch.
"Total orders to date have reached Dh16.8 billion" ($4.6 billion), Idex 2009 defence show spokesman General Obeid al-Ketbi said.
The enormous spending tally excludes a large order for 48 trainer aircraft M346 from Italian manufacturer Alenia Aermacchi which was announced Wednesday, as the value of that contract has yet to be finalised, he said.
"Alenia Aermacchi will supply the UAE armed forces with 48 aircraft to cover its need for trainer planes," Ketbi told reporters on the fourth day of the largest defence fair in the Middle East.
"We still need some time to decide on the total value of the deal," he said, pointing out agreements are still to be reached over the requirements in the aircraft.
The Italian plane was chosen in a competition with the T-50 aircraft, made by Korean Aerospace Industry (KAI), and the BAE Systems Hawk 128, Ketbi added.
Other deals announced on Wednesday added up to Dh1.47 billion ($400 million), including a Dh1.07 billion ($291.6 million) order for Canadian Provincial Aerospace Ltd to convert DHC-8 Q300 aircraft into maritime patrol planes.
German Rheimetall will supply the UAE armed forces with 27mm Rheimetall guns worth Dh191.6 million ($52 million dollars) while Swiss company Vectronix AG will deliver artillery observation system machines for Dh32.6 million ($8.7 million).
On Tuesday, the UAE armed forces placed orders worth Dh12.3 billion ($3.35 billion), including two contracts worth together $2.9 billion with US giants Boeing and Lockeed Martin to buy military transporting planes.
Monday contracts amounted to Dh3 billion ($817 million).
The surge in spending, which dwarfs the UAE's purchases of $918.2 million show at the last show in 2007, comes as plunging oil prices hit the UAE's main source of revenues, and amid a slowdown in the country's economy after several years of rapid growth.
In 2005, the show registered orders worth $1.85 billion.
Ketbi insisted however that the splash on contracts, several of which went to local producers and service providers, are not linked to the economic slowdown, implying that they are not aimed at injecting cash into the local economy, or to putting a brave face.
"The contracts have nothing to do with the (economic) crisis... They are part of the strategy set by the armed forces," he said.
Ketbi had earlier this week shrugged off the impact of the global economic crisis on Idex 2009, predicting it would be 'stronger" than previous editions.
No details were available of defence purchases by other countries in the show in which some 900 exhibitors are participating, and which ends on Thursday.
The six members of the Gulf Cooperation Council -- Bahrain, Kuwait, Oman, Qatar, Saudi Arabia and the United Arab Emirates -- are expected to spend around $59 billion on defence in 2009, according to a January report by US consultants Forecast International, cited in Idex publicity material.
Follow Emirates 24|7 on Google News.