UAE in mourning after death of UAQ ruler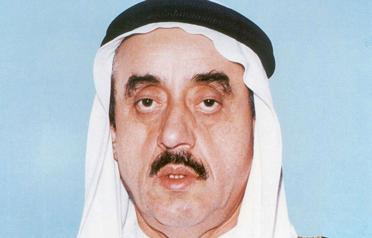 The President His Highness Sheikh Khalifa bin Zayed Al Nahyan, Ruler of Abu Dhabi, and His Highness Sheikh Mohammed bin Rashid Al Maktoum, Vice-President and Prime Minister of the UAE and Ruler of Dubai, led condolences following the death of Sheikh Rashid bin Ahmed Al Mualla, Supreme Council Member and Ruler of Umm Al Quwain.

Sheikh Rashid died in a hospital in London yesterday. Special prayers for him will be held today at the Grand Mosque in Al Ras Umm Al Quwain.

Meanwhile, a week of mourning has been declared, during which flags will fly at half-mast. All ministries and government departments will be closed for three days of official mourning, which began yesterday. National and foreign banks are open today but financial markets will remain closed until Monday.

Celebrations today to mark the anniversary of the accession of Sheikh Mohammed as Ruler of Dubai have been cancelled.

The emir's court of each emirate said they mourned the loss of Sheikh Rashid.

Sheikh Rashid was born in 1932 at Umm Al Quwain Fort which he later ordered to be turned into a national museum.

His official obituary, issued by the official Wam news agency, said: "The character of Sheikh Rashid was a reflection of that of his late father, Sheikh Ahmed bin Rashid Al Mualla, who was wise, just, modest and tolerant.

"His father chose him as Crown Prince and made him Chairman of Umm Al Quwain Municipality in 1968, where he made efforts that have had a big impact in the development of the emirate. On February 22, 1981, Sheikh Rashid became the Ruler of Umm Al Quwain which has seen progress in all fields.

"Late Sheikh Rashid steered the affairs of Umm Al Quwain with wisdom to achieve his vision of developing the emirate through the building of several leading projects that contributed to pushing the wheel of life forward to match the development in the UAE.

"[He] was a pioneer of the march of the federation as he was aware of the value of the federation as a brave start as well as a unique and distinguished experiment to consolidate bonds of cohesion between the country's seven emirates.

"The late Sheikh Rashid was a signatory to the provisional constitution of the United Arab Emirates as a Crown Prince and Deputy Ruler on December 2, 1971, on behalf of the then Umm Al Quwain Ruler, his Late father, Sheikh Ahmed.


New Ruler

His Highness Sheikh Saud bin Rashid Al Mualla, the new Ruler of Umm Al Quwain and Supreme Council Member, will receive condolences for three days, beginning today.

Born on October 1, 1952, Sheikh Saud received his elementary and primary education in Umm Al Quwain before attending high school in Lebanon and university in Cairo, graduating in 1974 with a degree in economics.

He is married to the daughter of His Highness Sheikh Saqr bin Mohammed Al Qasimi, Supreme Council Member and Ruler of Ras Al Khaimah. Sheikh Saud has ten sons.

Sheikh Saud was appointed to the UAE Foreign Ministry in 1973, being seconded to the Umm Al Quwain Emiri Court, and was subsequently appointed as Commander of the Umm Al Quwain Emiri Guard in 1977.

In 1979, he was appointed as Chief of the Umm Al Quwain Emiri Court, subsequently being chosen as Crown Prince in 1982, following the accession of his late father as ruler the previous year.

He has also played an active role in the development of the hydrocarbons industry in the emirate, having been involved in negotiations related to oil concessions and subsequent exploration.

His continuous efforts were crowned with success when he inaugurated Umm Al Quwain's first offshore gas field in 2006.

Sheikh Saud has also served as chairman of a number of public companies, including the National Bank of Umm Al Quwain, the Umm Al Quwain Gas Company and the Umm Al Quwain Cement Company.

A keen advocate of the preservation of the country's national cultural heritage, Sheikh Saud is an avid follower of the traditional sport of camel-racing and is also an enthusiastic angler.
Follow Emirates 24|7 on Google News.