UAE to obtain 224 advanced air-to-air missiles for F-16 jets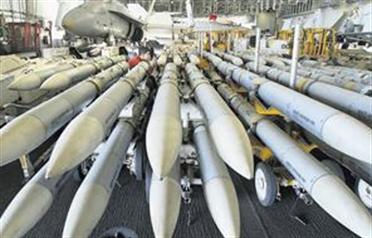 The UAE will acquire one of the most advanced medium range air-to-air missile systems from the US for its F-16 fleet.

Officials from Reytheon, the manufacturers of the system, at Idex confirmed and told Emirates Business the UAE has made a firm order for 224 AIM-120C-7 Advanced Medium Range Air-to-Air Missile (Amraam).

"Amraam is one of the most advanced missiles and already deployed in other region countries, like Saudi Arabia, Jordan and Pakistan. The missiles are for the F-16 Block 60 fighter jets of the UAE Air Force," said Lt General (retired) Paul T Mikolashek, President of Middle East Raytheon.

When asked about the value of the deal, he said: "I cannot reveal the value, but can tell the number of missiles is 224 and these are for the F-16 jets".

A senior officer of the US Army earlier said the AIM-120C-7 will provide the UAE unmatched air combat and air defence capabilities.

Colonel Michael Andersen, Commander of the US Air Force's 328th Armament Systems Group, said: "Providing our allies the most capable variant of the combat-proven Amraam through the foreign military sales programme is a crucial component of the US foreign policy objectives."

Harry Schulte, Vice President of Air Warfare Systems at Raytheon Missile Systems, said Amraam is beyond visual range weapon of choice and has been integrated on more than 12 front line fighters, including the Joint Fighter, Typhoon, F-15, F-16, F-18 and surface launch configuration.

He said: "The air force of the United Arab Emirates continues to choose Amraam for its unmatched reliability and overall affordability over the entire lifecycle of the missile. With more than 1.7 million captive carry hours and more than 2,400 live firings, Amraam has demonstrated that it is the cornerstone for air dominance in coalition operations."

The Amraam is combat proven, scoring victories over the skies of Iraq, Bosnia, and Kosovo, and its operational reliability is measured in thousands of hours – an order of magnitude improvement beyond other systems – with mean-time-between-failure rates in excess of 1,500 hours of operation. They are currently flown by the majority of coalition air forces.

The US Air Force has recently exceeded one million captive carry hours while maintaining field availability well above requirements.

Meanwhile, Raytheon at Idex also announced securing a $173 million deal from the US Army for equipping Iraqi and Egyptian tanks.

According to the company, under the contract they will provide second-generation infrared kits for a variety of platforms, including Iraqi and Egyptian M1 Abrams tanks.

The contract includes foreign military sales to Iraq and Egypt for a small number of thermal receiver upgrades to M1 Abrams tanks.
Follow Emirates 24|7 on Google News.