Welcome to the future of transport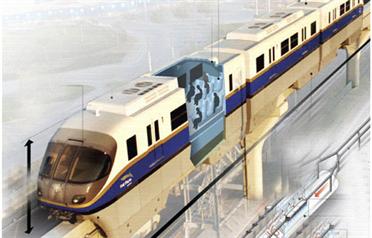 Visitors to Dubai will be able to glide from the airport to the tip of the Palm Jumeirah completely car-less on the soon-to-be completed Metro and Monorail.

From April, the final leg of that journey – the Palm Monorail – will be up and running, Nakheel, the developer behind the system said this week.

A spokesman said: "Our co-operation with the Roads and Transport Authority extends as far as a joint ticketing

system that will enable holders of a RTA farecard to pay for journeys on the Palm Monorail. Eventually there'll be seamless travel, for example, from Dubai Airport to Atlantis."

The Palm Monorail will eventually be extended by 2km to join with theDubai Metro system via the proposed Al Sofouh tramline.
The monorail will be the first of its kind in the Middle East – a system that at a top speed of 70kph will carry up to 6,000 passengers per hour. Nakheel this week hosted a delegation from the RTA on the monorail's first official journey.

The delegation, led by RTA CEO Abdulmajid Al Khaja, travelled from Gateway Towers at the base of the trunk of The Palm to Atlantis Aquaventure Station at the top of the Crescent. The 5.45km journey on one of the four trains took eight minutes. Nakheel said the main challenges for building the monorail included running one kilometre of track over the sea, plus coping with Dubai's climatic conditions and protecting the communities of The Palm from noise pollution by using a virtually silent track system.

The system has been developed by a consortium of international companies, led by the Marubeni Corporation, and is fully automatic and driver-less, though an attendant will be on board at all times.
Follow Emirates 24|7 on Google News.