Afghan war has to be fought in Afghanistan not Pakistan, says FM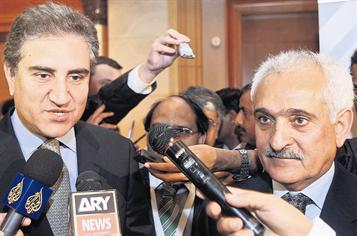 The war against Taliban militants in Afghanistan must be fought inside the country itself and not spill over into Pakistan, the Pakistani foreign minister said yesterday.

"The Afghan war has to be fought within Afghanistan. The challenges within Afghanistan cannot be resolved in Pakistan," Shah Mehmood Qureshi told reporters on the sidelines of a Meeting of Special Representatives for Afghanistan and Pakistan, held in Abu Dhabi.

"The challenge that we have in Pakistan is being faced very bravely and very courageously by the people of Pakistan," he said. "On our side of the border, Pakistan is capable of looking after the problem."

Pakistan faces Taliban insurgents and militants who have killed more than 2,900 people since July 2007.

The insurgents are opposing Islamabad's alliance with the United States in the eight-year war against the Taliban in neighbouring Afghanistan.

In his address to the conference, Afghan Foreign Minister Rangin Dadfar Spanta said both diplomatic and military methods were needed to bring stability to his country.

"We seek… in addition to military means, peaceful solutions to our security challenge," Spanta said.

"Afghanistan is fully committed to pave the way for a return to normal life by all Afghans who are ready to surrender arms and abide by the Afghan constitution," he said.

On the sidelines of the forum, Spanta said the US troop surge in Afghanistan must be part of a broader strategy including development and strengthening state institutions if it is to succeed.

"Political reconciliation, reintegration [of ex-fighters], capacity-building of civilian institutions, improvement of governance and structures inside Afghanistan are very important for a forward movement or for stability and peace in Afghanistan," he said.
Keep up with the latest business news from the region with the Emirates Business 24|7 daily newsletter. To subscribe to the newsletter, please click here.
Follow Emirates 24|7 on Google News.