Bicycle bomb kills five in NW Pakistan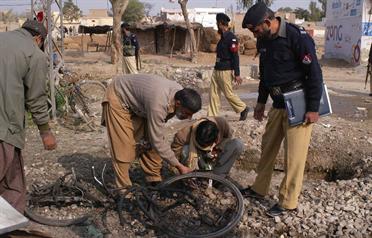 A bomb planted on a bicycle exploded near a women's hostel in the northwestern Pakistani town of Dera Ismail Khan on Monday, killing five people and wounding several, police said.
Pakistan is struggling to stem growing insurgency by al Qaeda and Taliban militants, particularly in the northwest near the Afghan border.
"It was a cycle bomb. Five people died on the spot while the wounded were shifted to hospitals," police officer Bashir Khan said by telephone from the scene.
Khan declined to say if the women's hostel was the target. A hospital and a press club are also in the vicinity.
Dera Ismail Khan is 270 km (170 miles) southwest of the capital, Islamabad, in North West Frontier Province.
It is near the border with the South Waziristan ethnic Pashtun tribal region, a known sanctuary for al Qaeda and Taliban militants on the Afghan border.
Militants have unleashed a wave of suicide and bomb attacks and assassinations in response to military operations against them in the northwest, including the Swat valley where insurgents are waging a violent campaign to enforce strict Islamic law.
On Monday, a man and a woman were killed when a mortar bomb fired by security forces at a militant hideout hit a house near Swat's main town of Mingora, residents and police said.
The scenic valley was until recently one of Pakistan's prime tourist destinations, but militants who began battling security forces in 2007 are now virtually in complete control, residents say.
Authorities imposed a curfew in parts of the valley on the weekend when militants issued an order to 43 prominent people from the valley, including politicians and tribal elders, to appear before a Taliban "court".
Eight militants were killed in a clash in the valley on Sunday, the military said, while early on Monday militants blew up a government high school, district officials said. Schools are closed for a winter break and no one was hurt.
Militants have destroyed more than 180 valley schools, most of them for girls.
The militants are opposed to girls getting an education and see schools as symbols of government authority. They also say the army has been posting soldiers in schools. 
Follow Emirates 24|7 on Google News.